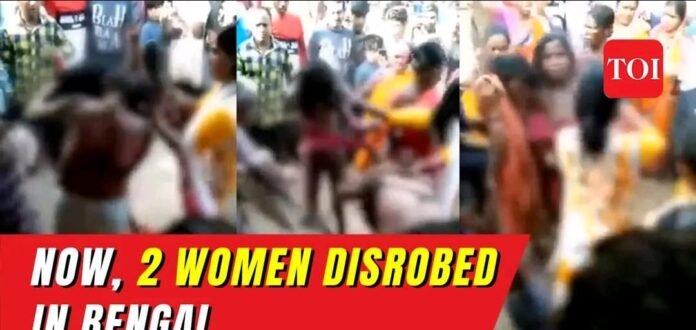 In a disturbing incident that has sent shockwaves across the nation, a distressing video has emerged showing the appalling assault of two women in West Bengal. The incident, which occurred recently, has drawn widespread condemnation and ignited public outrage.
The video, which was widely circulated on social media, captures the harrowing ordeal endured by the two victims as they were forcibly stripped and subjected to physical abuse. The incident took place in a yet-to-be-disclosed location in West Bengal, adding to the urgency of the authorities' response.
Following the video's circulation, law enforcement agencies promptly initiated an investigation to identify and apprehend the culprits responsible for the heinous act. Thanks to swift and diligent efforts, five individuals allegedly involved in the incident have been arrested and are currently in police custody.
The incident has raised serious concerns about the safety and security of women in the region, prompting calls for more robust measures to combat gender-based violence. Activists and concerned citizens have taken to social media platforms, demanding justice for the victims and pushing for stricter enforcement of laws to protect women from such atrocities.
State authorities have also expressed their dismay over the incident, vowing to ensure that the perpetrators face the full force of the law. The Chief Minister of West Bengal, in a public statement, condemned the incident in the strongest terms and assured the public that justice would be served.
This disturbing incident serves as a stark reminder of the pressing need to address and tackle the pervasive issue of violence against women in India. It highlights the importance of fostering a society that promotes gender equality and safeguards the rights and dignity of all its citizens.
As the investigation into the incident continues, the victims and their families have received support from various organizations offering assistance and counseling. It is crucial for society to rally behind those affected by such traumatic events, providing them with the necessary support to heal and rebuild their lives.
This appalling incident should serve as a wake-up call for the government, law enforcement agencies, and society as a whole to take decisive action against perpetrators of gender-based violence. Only through collective efforts can we strive towards creating a safer and more secure environment for everyone, irrespective of gender or background.