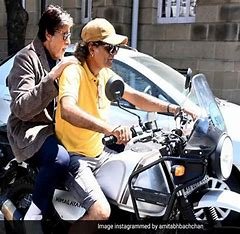 Bollywood legend Amitabh Bachchan recently expressed his gratitude to an unknown biker who helped him beat the notorious Mumbai traffic and arrive on time for his shooting location. The 80-year-old actor took to Instagram to share a picture of himself with the kind-hearted stranger.
In the post, Bachchan thanked the biker for giving him a ride and getting him to his work location quickly, avoiding the inevitable traffic snarls. He praised the stranger, who was dressed in a cap, shorts, and a yellowed t-shirt, for his assistance. Bachchan's granddaughter, Navya Naveli Nanda, left a heart and heart-eye emoji in the comments, while fellow actor Rohit Bose Roy called Bachchan the "coolest dude on earth."
While Bachchan received praise for his resourcefulness and punctuality, some users couldn't help but notice that both Bachchan and the biker were not wearing helmets in the photograph. Concerns about their safety were raised, with comments highlighting the importance of wearing helmets while riding a bike.
One user questioned the absence of a helmet, while another emphasized that wearing just a cap was insufficient protection. The comments brought attention to the mandatory helmet laws and the need for everyone, including celebrities, to set a good example by following safety regulations.
Currently, Bachchan is filming for the movie "Section 84," directed by Ribhu Dasgupta. Additionally, he is set to appear in Nag Ashwin's highly anticipated sci-fi film "Project K," alongside Prabhas and Deepika Padukone.
While Bachchan's gesture of gratitude towards the biker received admiration, the helmet controversy serves as a reminder of the importance of safety precautions, even for public figures. As the incident gained attention on social media, it sparked a larger conversation about road safety and the need for responsible behavior, regardless of one's celebrity status.