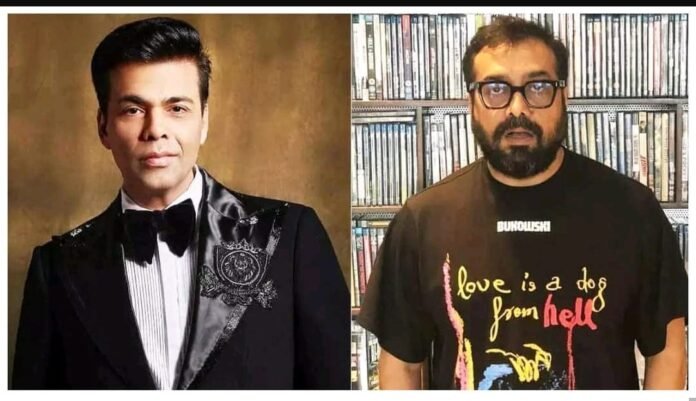 In an unexpected turn of events, renowned filmmaker Anurag Kashyap recently disclosed his surprising admiration for a Bollywood film. The revelation has sent ripples of excitement through the film industry and amongst cinephiles alike. In a recent interview, Kashyap candidly shared that he had watched the much-anticipated film, 'Rocky Aur Rani Kii Prem Kahaani,' not once, but twice!
For a filmmaker known for his unorthodox and boundary-pushing cinema, Kashyap's endorsement of a mainstream Bollywood project is garnering immense attention. Directed by the talented Karan Johar, 'Rocky Aur Rani Kii Prem Kahaani' has been generating buzz ever since its announcement, owing to its star-studded cast and intriguing storyline.
Speaking about the film, Kashyap revealed, "I was intrigued by the film's premise and the chemistry between the lead actors. Karan has managed to craft a compelling narrative that resonates with the audience." He further praised the performances, calling them "captivating and sincere."
The film stars Bollywood veterans Ranveer Singh and Alia Bhatt in the titular roles, portraying a tumultuous love story filled with twists and turns. With an ensemble cast that includes seasoned actors like Dharmendra, Jaya Bachchan, and Shabana Azmi, the project promises to be a wholesome cinematic experience.
Anurag Kashyap's endorsement comes as a pleasant surprise, given his inclination towards unconventional storytelling and gritty dramas. His films, such as 'Gangs of Wasseypur,' 'Black Friday,' and 'Dev.D,' have often explored the darker aspects of human nature, making his appreciation for 'Rocky Aur Rani Kii Prem Kahaani' all the more intriguing.
While Kashyap's statement has already sparked debates among his followers, it also highlights the importance of appreciating diverse genres within the film industry. It goes on to show that even a maverick like Kashyap can find merit in a more mainstream, romantic drama.
The endorsement could potentially bring a new audience to the film, attracting fans of Kashyap's work to explore a different facet of cinema. It also underscores the importance of breaking free from stereotypes and allowing artists the freedom to appreciate and express their individual tastes.
As the release date of 'Rocky Aur Rani Kii Prem Kahaani' approaches, the film is undoubtedly poised to receive even more attention and curiosity from movie enthusiasts. Anurag Kashyap's endorsement has added an intriguing layer to the film's narrative and has given fans one more reason to eagerly await its arrival.