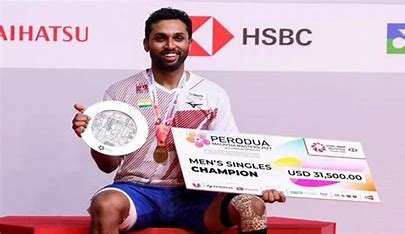 Indian shuttler HS Prannoy has emerged victorious at the Malaysia Masters Super 500 tournament, putting an end to his six-year title drought. Prannoy's remarkable triumph came after a rollercoaster journey, filled with ups and downs, and a battle with sleep deprivation leading up to the tournament. However, the unwavering support and belief instilled by chief national coach Pullela Gopichand proved to be the driving force behind his success.
Reflecting on his long-awaited victory, Prannoy expressed his disbelief and mixed emotions, stating that he hadn't anticipated winning a title in 2023 after such a prolonged dry spell. He expressed gratitude towards the coaching staff, support team, and especially Gopichand, who consistently reminded him to believe in his abilities.
Prannoy also acknowledged the contribution of his former teammate turned coach, RMV Gurusai Dutt, for his support during challenging times. Together, they had worked diligently over the past four months, leading to the eventual breakthrough.
The Malaysia Masters Super 500 is a prestigious tournament in the Badminton World Federation (BWF) World Tour, and Prannoy's victory is a significant achievement in his career. Ranked ninth in the world and currently India's top-ranked player, Prannoy had last tasted individual success at the 2017 US Open Grand Prix Gold.
Throughout the tournament, Prannoy displayed remarkable fortitude, defeating top-ranked opponents such as Chou Tien Chen, Li Shi Feng, and Kenta Nishimoto. The tough draw and challenging matches tested his patience and showcased his fitness and resilience.
Prannoy emphasized the importance of self-competition and consistency in his performance. He acknowledged that staying smart about tournament selection and maintaining a balance between training and rest are crucial factors in his future success.
The victory in Malaysia holds deeper significance for Prannoy, as it signifies a turning point in his career. The triumph has not only boosted his confidence but also unveiled hidden talents and provided valuable insights for further training and upcoming events.
Former Commonwealth Games bronze medalist Gurusai Dutt, a constant companion and guide for Prannoy, highlighted the addition of new shots to his arsenal. With Gopichand's inputs and dedicated training sessions in Hyderabad, Prannoy successfully implemented these innovative strokes in competitive matches, surprising his opponents.
Prannoy's victory at the Malaysia Masters Super 500 is a testament to his resilience, determination, and the unwavering support of his coaches and team. With this long-awaited triumph, he has proven that he remains a formidable force in international badminton and has rekindled hopes for future success.