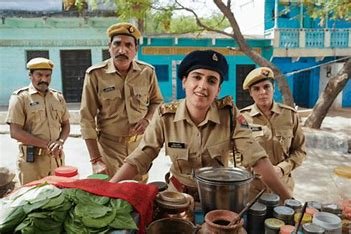 Yashowardhan Mishra, a first-time director, is making waves with his feature debut, "Kathal: A Jackfruit Mystery." The film delves into sociocultural themes within the interiors of central India, presented through the lens of absurdist comedy. Mishra, who studied literature and mass media, aims to shed light on deeper societal issues while delivering a light-hearted satire.
At the heart of "Kathal" is Mahima Basor, portrayed by Sanya Malhotra, a resourceful police officer from a lower caste. Her mission is to locate two premium-quality jackfruits that mysteriously disappear from a local politician's garden. Mishra emphasizes the importance of unlearning and recognizing his privileges as an upper caste man, using his privilege to tell stories of the less privileged.
The film's absurd tone serves to create an intentional sense of alienation, with elements that may seem far-fetched yet derive from the realities observed in the surroundings. Mishra, who co-wrote the film with his father Ashok Mishra, extensively researched the Bundelkhand region, a hilly area spanning Uttar Pradesh and Madhya Pradesh. While the story is set in the fictional town of Moba, the depicted police force draws inspiration from the Uttar Pradesh Police.
Mishra wanted to challenge preconceived notions of the police force, often portrayed as glorified masculinity. Through "Kathal," he aims to showcase a different side, breaking stereotypes and portraying police officers as relatable individuals with intrapersonal dynamics. The film features a stellar ensemble cast, including Vijay Raaz, Rajpal Yadav, Anant Joshi, Neha Saraf, Govind Pandey, and Shashi Ranjan.
To create the character of Mahima, Mishra and his co-writer father consciously avoided the male gaze, ensuring she was depicted as a smart and resourceful officer who relied on her intelligence rather than physical strength. Their research involved interacting with women police officers, who approached situations with empathy and a balanced outlook.
Sanya Malhotra's portrayal of Mahima adds another layer of brilliance to the film. Her past performances, showcasing strong comic timing and an understanding of local culture, made her an ideal fit for the role. The film is produced by Sikhya Entertainment and Balaji Telefilms Ltd and will be available for streaming on Netflix starting May 19.
"Kathal: A Jackfruit Mystery" promises to be a unique cinematic experience, using comedy to explore sociocultural dynamics and challenge stereotypes while offering a fresh perspective on the police force. With Mishra's vision and a talented cast, audiences can anticipate a thought-provoking and entertaining film that reflects the realities of central India.