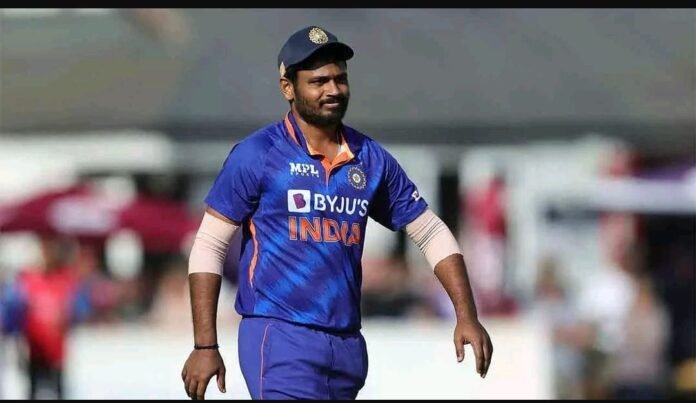 "Sanju Samson's Place in Asia Cup Uncertain Due to Fluctuating Performance"
As cricket enthusiasts eagerly await the upcoming Asia Cup, one player's participation hangs in the balance. The inconsistent form of Sanju Samson has raised questions about his potential inclusion in the squad. While Samson has demonstrated flashes of brilliance, his uneven performance has cast a shadow of uncertainty over his role in the highly anticipated tournament.
Samson, known for his explosive batting and remarkable agility behind the stumps, has been a subject of both admiration and concern. His knack for delivering extraordinary innings has left fans and pundits alike in awe, yet the sporadic nature of his contributions has led to doubts about his reliability.
In recent matches, Samson's batting displays have been a rollercoaster ride, swinging between exhilarating knocks and frustrating dismissals. This inconsistency has not only frustrated fans but has also prompted team management to contemplate his suitability for a competition as crucial as the Asia Cup.
With other talented wicketkeeper-batsmen vying for a spot in the squad, the selectors face a challenging decision. The Asia Cup, a stage that demands unwavering performance, might not be the ideal platform for a player who has struggled to maintain a steady rhythm.
Team strategists and coaching staff find themselves at a crossroads, torn between the potential game-changing impact that Samson can provide on his best days and the need for a more dependable presence in a high-stakes tournament.
The selection process is no easy task, as it requires a delicate balance between faith in a player's ability and the realities of their recent form. Samson's undeniable talent and remarkable ability to turn a match on its head cannot be ignored, but the inherent risks of his fluctuating performance raise concerns about his place in the playing XI.
The Asia Cup is not only a platform to showcase individual brilliance but also a stage where consistent teamwork and reliable contributions play a pivotal role. As the tournament draws closer, cricket enthusiasts and experts will keenly follow the selection discussions and the eventual decision regarding Sanju Samson's participation. Only time will reveal whether his potential inclusion aligns with the team's ultimate goal of clinching the coveted Asia Cup title.