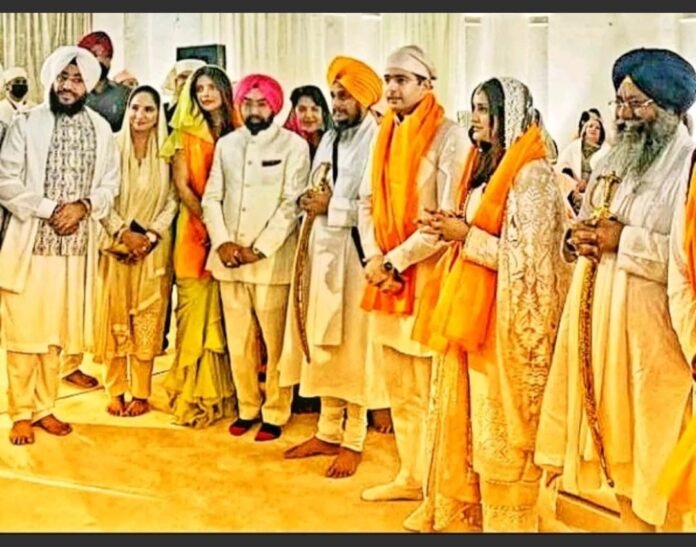 In a long-awaited celebration, Bollywood actress Parineeti Chopra and politician Raghav Chadha finally put an end to months of speculation as they exchanged rings in a joyous ceremony. Surrounded by their loved ones and a host of esteemed guests, the couple's union took place at the magnificent Kapurthala House in New Delhi.
The festivities commenced with a heartwarming ardas, a Sikh prayer, as Parineeti and Raghav sought blessings for their journey ahead. The serene atmosphere filled with love and anticipation as family members and close friends gathered to witness this significant moment in the couple's lives.
Among the attendees was none other than Parineeti's superstar cousin, Priyanka Chopra, who graced the occasion with her elegant presence. The siblings' bond was evident as they shared affectionate moments, adding a touch of glamour to the already star-studded event.
The venue itself exuded grandeur, adorned with exquisite floral arrangements and tasteful decorations that perfectly complemented the couple's joyous spirits. Parineeti looked resplendent in a traditional ensemble, radiating grace and happiness, while Raghav complemented her with his dashing charm.
As the ceremony progressed, the air was filled with heartfelt speeches, laughter, and warm wishes from family and friends, encapsulating the deep love and support the couple had garnered throughout their journey. The couple's commitment to each other shone brightly as they exchanged rings, symbolizing their eternal bond.
The celebrations continued late into the night, with a lavish reception that boasted an array of delectable cuisines, lively music, and enthusiastic dancing. The couple's infectious joy permeated the atmosphere, leaving a lasting impression on all those fortunate enough to be a part of this momentous occasion.
Parineeti Chopra and Raghav Chadha's ring ceremony marked the beginning of a beautiful chapter in their lives, embracing love, togetherness, and shared aspirations. Their union serves as an inspiration to all, reminding us that love knows no boundaries, whether in the world of showbiz or politics.
As the couple embarks on this new journey, we wish them a lifetime of happiness, harmony, and cherished memories. May their love continue to grow stronger with each passing day, and may their union serve as a beacon of hope for all those who believe in the power of love.