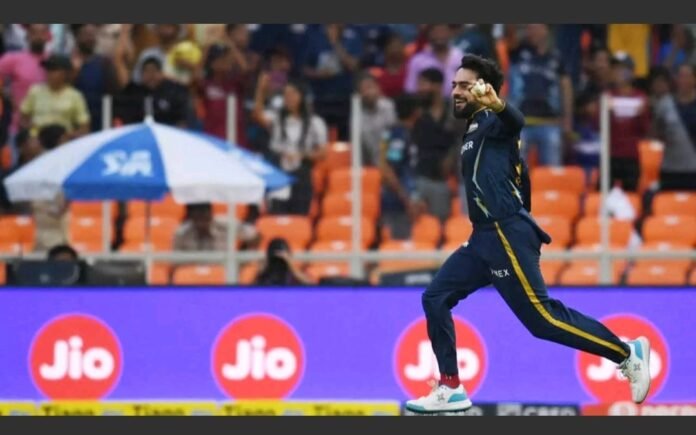 In a recent statement, former Indian cricketer Virender Sehwag has expressed his belief that the Gujarat Titans will heavily rely on their star spinner Rashid Khan in the highly anticipated IPL 2023 Qualifier 1. Sehwag highlights the spin-friendly Chepauk track as the perfect setting for Rashid Khan to shine and make a significant impact on the game.
Sehwag, known for his aggressive batting style during his playing days, spoke highly of Rashid Khan's abilities and the impact he can have on the outcome of the crucial qualifier match. The former cricketer turned cricket pundit emphasized that with the pitch at Chepauk being conducive to spin, Rashid Khan's presence in the Gujarat Titans' lineup will be of utmost importance.
Sehwag praised Rashid Khan for his exceptional skills as a spinner, highlighting his ability to turn the ball sharply, bowl deceptive variations, and maintain excellent control over his line and length. The former opener emphasized that Rashid's talent and experience in handling pressure situations make him an invaluable asset for the Gujarat Titans.
Sehwag underlined the strategic importance of having a spinner like Rashid Khan in the team. He mentioned that the spinner not only possesses the capability to take wickets at crucial junctures but can also control the flow of runs effectively, which is crucial in the T20 format. Sehwag further emphasized that Rashid's wicket-taking ability can prove to be a game-changer for the Gujarat Titans in the Qualifier 1.
Sehwag pointed out that Rashid Khan's presence in the Gujarat Titans' squad would undoubtedly put additional pressure on the opposing teams. His reputation as a world-class spinner who has achieved success on various surfaces around the globe adds to the challenge for the opposition, making it difficult for them to plan their innings against him.
Virender Sehwag's analysis highlights the significance of Rashid Khan's role as the trump card for the Gujarat Titans in the IPL 2023 Qualifier 1. With the Chepauk track favoring spin, Rashid Khan's exceptional skills, ability to control the game, and knack for taking crucial wickets make him an indispensable asset for his team. As the match approaches, all eyes will be on Rashid Khan as cricket enthusiasts eagerly await his performance, which could prove decisive in the Gujarat Titans' quest for IPL glory.