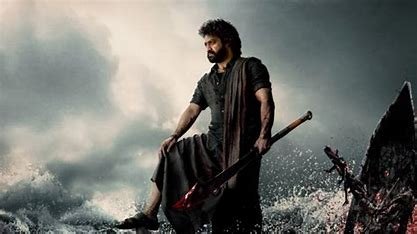 Jr NTR, one of Telugu cinema's most talented and popular actors, recently revealed the title of his upcoming film, "Devara," on social media. With his 40th birthday approaching, the actor took the opportunity to share this exciting news with his fans and followers. Directed by Kortala Siva, "Devara" promises to be a gripping high-octane action drama, set in the forgotten coastal lands of India. The film marks Jr NTR's second collaboration with Siva, following their successful venture in 2016's "Janatha Garage." Adding to the anticipation, "Devara" features the renowned Hindi cinema actors Saif Ali Khan and Janhvi Kapoor in pivotal roles. Produced by Yuvasudha Arts and NTR Arts, and presented by Nandamuri Kalyan Ram, the film is set to hit theaters nationwide on April 5, 2024.
Devara" sets its stage in the lesser-explored coastal lands of India, hinting at an immersive cinematic experience that takes viewers on a visual and emotional journey. With its unique setting, the film offers a refreshing departure from traditional backdrops, providing a rich tapestry of culture, history, and untapped potential.
Jr NTR, known for his impeccable acting skills and magnetic screen presence, has consistently enthralled audiences with his diverse roles. In "Devara," he is poised to deliver yet another memorable performance. As an actor who effortlessly embraces a wide range of emotions, Jr NTR's portrayal in this high-octane drama is eagerly anticipated. His ability to breathe life into complex characters ensures that his presence alone will be a driving force behind the film's success.
Joining Jr NTR on this cinematic journey are two prominent faces from Hindi cinema: Saif Ali Khan and Janhvi Kapoor. Known for his versatile performances, Saif Ali Khan's addition to the cast raises intrigue, leaving fans curious about the nature of his role. Janhvi Kapoor, on the other hand, has made a mark with her noteworthy performances and will undoubtedly bring depth and grace to her character in "Devara." With such a talented ensemble cast, the film promises an ensemble of exceptional performances.
Director Kortala Siva's collaboration with Jr NTR in "Janatha Garage" was highly successful, making their reunion in "Devara" an exciting prospect. Siva's penchant for weaving engaging narratives with compelling character arcs ensures that "Devara" will be an unforgettable cinematic experience. The film is jointly produced by Yuvasudha Arts and NTR Arts, and the association of Nandamuri Kalyan Ram as the presenter further amplifies the anticipation surrounding the project.
"Devara" is poised to captivate audiences with its high-octane action, gripping storyline, and remarkable performances. With Jr NTR at the helm, supported by the talented Saif Ali Khan and Janhvi Kapoor, the film promises to be a visual treat. Set against the backdrop of the forgotten coastal lands of India, the movie offers a unique and intriguing setting that adds an extra layer of excitement. As the release date approaches, fans and film enthusiasts eagerly await the opportunity to witness Jr NTR's magnetic presence on the silver screen once again in this exciting new venture.