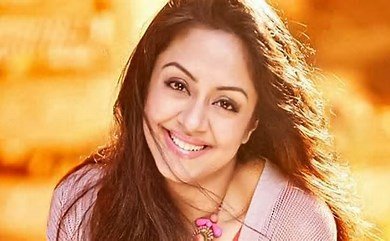 Jyotika, the popular South Indian star, is all set to make her comeback to Hindi films after a hiatus of 25 years. She has been roped in to play a pivotal role in a supernatural thriller movie helmed by acclaimed filmmaker Vikas Bahl. The project, headlined by Ajay Devgn, has generated much anticipation among fans and the film industry alike.
The announcement was made through a press note issued by the film's makers, revealing that Jyotika's return to Hindi cinema will be marked by this intriguing project. Known for her versatile acting skills and charismatic screen presence, Jyotika has garnered a massive fan following in the South Indian film industry over the years. Her inclusion in this Hindi film is expected to add a fresh and captivating dimension to the narrative.
The yet-untitled film not only boasts an impressive cast with Ajay Devgn and Jyotika but also features the talented R Madhavan. The production responsibilities lie with Devgn, Kumar Mangat Pathak, and Abhishek Pathak, under the banner of Ajay Devgn Ffilm and Panorama Studios. With such a stellar lineup of actors and producers, expectations for this supernatural thriller are running high.
Currently in the pre-production stage, the film is scheduled to begin filming next month. The production team plans to shoot in various locations across Mumbai, Mussoorie, and London, adding a touch of grandeur and diversity to the movie. The blend of these iconic cities is likely to create a visually stunning backdrop for the thrilling narrative to unfold.
Jyotika was last seen in the Tamil drama film "Udanpirappe," which received critical acclaim for her powerful performance. Now, with her much-awaited return to Hindi cinema, fans are eagerly waiting to witness her on-screen magic once again.
As the project moves forward, fans and industry enthusiasts are eagerly anticipating more updates, including the film's title and additional cast members. With the combination of talented actors and an acclaimed director at the helm, this supernatural thriller promises to be an exciting cinematic experience. As the cameras roll next month, all eyes will be on Jyotika as she makes her long-awaited comeback to the Hindi film industry.