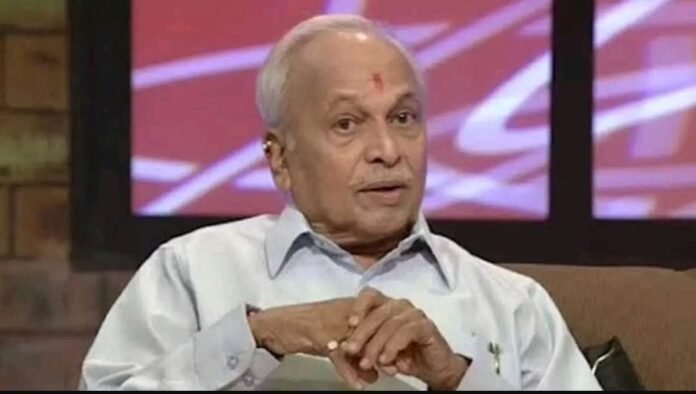 In a poignant moment for the Marathi entertainment industry, veteran actor Jayant Savarkar bid his final farewell at the age of 87. The news of his demise has left his fans and colleagues in deep mourning as they remember the remarkable contributions he made to the world of cinema and theatre.
Born on May 15, 1936, Jayant Savarkar's journey in the world of acting began decades ago, and he soon established himself as an iconic figure in Marathi cinema. With his exceptional talent and versatile performances, he garnered immense respect and admiration from both critics and audiences alike. Throughout his illustrious career, he breathed life into numerous memorable characters, leaving an indelible mark on the hearts of his fans.
Savarkar's passion for acting was evident from a young age, and he honed his craft through dedicated training and participation in various theatre productions. His ability to effortlessly transition between diverse roles earned him widespread recognition, making him a sought-after actor in the Marathi film industry.
Apart from his film endeavors, Jayant Savarkar also left an unforgettable impact on Marathi theatre. He was an integral part of many stage productions, mesmerizing audiences with his impeccable performances. The stage was where his talents truly shone, and he remained deeply rooted in his love for the art form throughout his life.
Beyond his artistic pursuits, Jayant Savarkar was known for his humility and kindness towards his colleagues and fans. He was a guiding figure to many aspiring actors, always ready to offer valuable advice and encouragement. His dedication to his craft and his warm persona earned him respect and admiration not just as an actor but as a person.
The news of his passing has brought an outpouring of grief from the entertainment fraternity, with many prominent personalities expressing their condolences and paying tribute to the legendary actor. His co-stars and directors fondly recall their experiences of working with him, praising his professionalism and infectious enthusiasm on set.
Jayant Savarkar's legacy will undoubtedly endure through the characters he brought to life on screen and the memories he created with his theatrical performances. His work will continue to inspire budding artists, reminding them of the true essence of acting and the power of storytelling.
As the Marathi film industry mourns the loss of this iconic figure, it also celebrates the wonderful contributions he made during his lifetime. Jayant Savarkar's artistry and talent will forever be etched in the annals of Marathi cinema, ensuring that he remains alive in the hearts of his admirers forever.
Today, we bid farewell to a legend, a man whose passion for acting knew no bounds, and whose performances left an indelible impact on the world of Marathi entertainment. Jayant Savarkar's brilliance will be dearly missed, but his light will continue to shine on through the magic of cinema and theatre. Rest in peace, Jayant Savarkar (1936-2023).