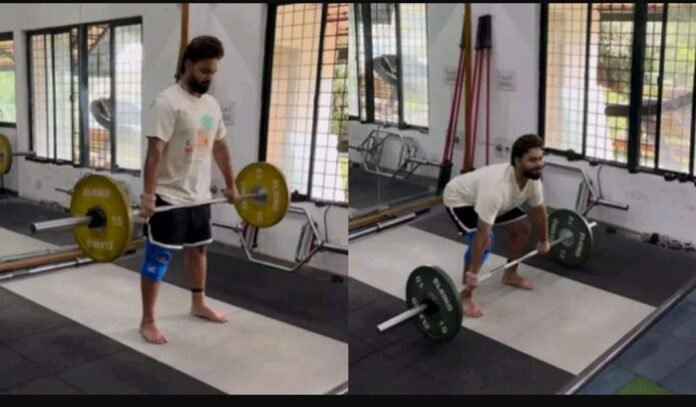 In an inspiring display of determination and strength, Indian cricket sensation Rishabh Pant recently shared a heartening video on his social media platform, promising a speedy recovery. The 25-year-old wicketkeeper-batsman has been on the sidelines due to an unfortunate injury, but his unwavering spirit and positive outlook are a testament to his resilience.
The video, which quickly went viral, captures Pant's journey towards healing, underscoring the dedication he has shown in his rehabilitation process. With a focus on physical therapy, intensive training, and a supportive team of medical experts, the young cricketer's video serves as a beacon of hope for fans and fellow athletes alike.
Ever since bursting onto the international cricket scene, Rishabh Pant has been renowned for his aggressive style of play and a fearless approach on the pitch. However, his injury had temporarily halted his upward trajectory, leaving fans anxious about his return. Nonetheless, the promising sportsman has proved that he is no stranger to overcoming challenges, as he has done numerous times before.
In the short clip, Pant can be seen engaging in a series of exercises designed to accelerate his recovery. His infectious smile and upbeat demeanor reveal his positive attitude towards the rehabilitation process, echoing the sentiment that setbacks are just stepping stones on the path to success. With each exercise, Pant's focus and dedication to regain full fitness are evident, instilling optimism among his supporters.
The cricketer's decision to share this personal glimpse into his journey is a testament to his connection with his fans and the wider cricketing community. It demonstrates the importance of transparency in athletes' lives and how their resilience can inspire millions to overcome challenges in their own lives.
Social media platforms have been abuzz with messages of encouragement for Pant, with fans showering him with well-wishes and prayers for a speedy recovery. Fellow athletes and celebrities have also joined in expressing admiration for his tenacity and positive outlook.
Pant's video serves as a reminder that professional athletes, despite their talent and fame, are human and face their share of hardships. It highlights the importance of mental fortitude and a strong support system in navigating through tough times.
As the video continues to make waves across the digital landscape, Rishabh Pant's journey has become an inspiration for all those striving to bounce back from adversity. His dedication to healing, along with his infectious optimism, cements his place not only as a cricketing prodigy but also as a role model for resilience and determination.
While fans eagerly await his return to the cricket field, Rishabh Pant's message of hope will continue to resonate, reminding us that setbacks are temporary, but the strength to overcome them lies within us. As he perseveres on his road to recovery, the young cricketer has already won the hearts of many and stands as a beacon of unwavering hope in the face of challenges.