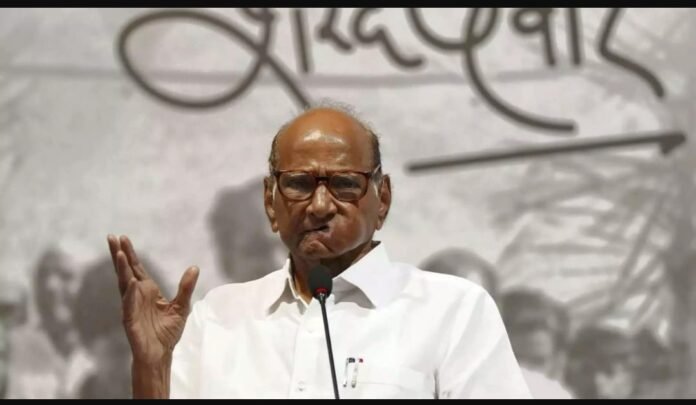 Mumbai, June 10, 2023: The veteran politician and Nationalist Congress Party (NCP) leader, Sharad Pawar (82), received a death threat on social media, leading to widespread condemnation and concern among politicians in Maharashtra. The threat, originating from an alleged "BJP activist," warned Pawar of facing a fate similar to that of the late rationalist Narendra Dabholkar.
The incident, which unfolded on Friday, sparked immediate reactions from political leaders across the state. Maharashtra Chief Minister Eknath Shinde expressed deep concern over the threat and assured Pawar of the government's commitment to ensuring his complete safety and security.
The details of the social media threat have not been disclosed, but it is reported to have caught the attention of authorities due to its severity and direct reference to the tragic fate of Narendra Dabholkar, a renowned anti-superstition activist who was assassinated in 2013.
In response to the incident, several political parties condemned the threat and called for a thorough investigation to identify and apprehend those responsible. The NCP, along with its coalition partners, emphasized the need for strict action against individuals who resort to such intimidatory tactics.
Sharad Pawar, a prominent figure in Indian politics with a vast experience spanning several decades, has faced numerous challenges throughout his career. However, this particular threat has sparked concern due to its direct nature and reference to a past act of violence against a social activist.
The Maharashtra government, led by Chief Minister Eknath Shinde, has taken immediate action to bolster security measures for Sharad Pawar. The Chief Minister assured Pawar of the government's unwavering commitment to his safety, urging law enforcement agencies to thoroughly investigate the matter and bring the culprits to justice.
Instances of threats and intimidation against politicians are a matter of grave concern for any democratic society. It is crucial for law enforcement agencies to swiftly and effectively address such incidents to uphold the principles of free speech, political expression, and the safety of public figures.
As the investigation into this incident unfolds, political leaders and citizens alike are hoping for a quick resolution, sending a clear message that such threats and acts of violence will not be tolerated in Maharashtra's political landscape. The incident serves as a reminder of the importance of maintaining a safe and secure environment for all individuals involved in public service and political discourse.
The Maharashtra government's commitment to ensuring Sharad Pawar's safety, combined with a rigorous investigation, will hopefully bring about justice and discourage any further attempts to intimidate political figures in the state.