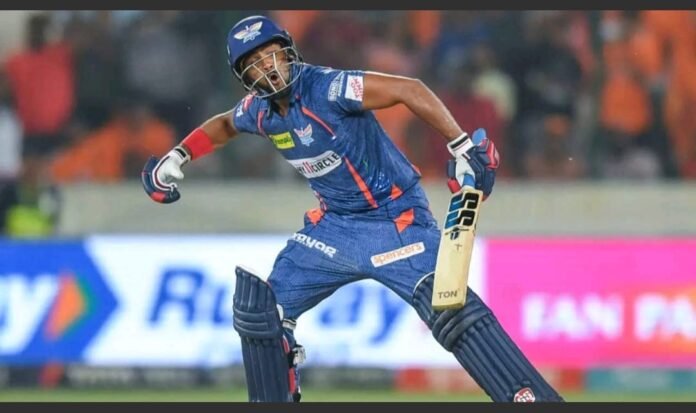 Lucknow, May 14, 2023: In a thrilling encounter on Saturday, Nicholas Pooran, the star wicketkeeper-batsman of Lucknow Super Giants, delivered a blistering performance that left the Sunrisers Hyderabad bowlers shell-shocked. Pooran's destructive knock of 44 off just 13 balls played a pivotal role in Lucknow's successful chase of 183 runs, boosting their chances of making it to the playoffs.
The match witnessed an extraordinary display of power-hitting as Pooran showcased his exceptional skills with the bat. Walking in at a critical juncture, Pooran wasted no time in stamping his authority on the game. With the required run rate climbing rapidly, he unleashed an array of scintillating strokes that sent the opposition bowlers on a leather hunt.
Pooran's innings was a masterclass in aggressive batting, exemplifying the essence of T20 cricket. He executed a breathtaking range of shots, effortlessly dispatching the ball to all corners of the ground. His immense power and clean striking left the Sunrisers Hyderabad bowlers clueless and spectators in awe.
The 13-ball onslaught by Pooran included an astonishing five boundaries and four towering sixes. His ability to find the gaps and clear the boundaries with ease not only kept the scoreboard ticking but also demoralized the opposition. It was a true exhibition of the mantra he believes in: taking risks to reap rewards.
This incredible knock by Pooran proved to be a turning point in the match. It shifted the momentum in Lucknow's favor and provided the impetus needed to chase down a challenging target. The audacious strokeplay of Pooran left a lasting impact on the spectators, who witnessed a batting spectacle like no other.
With this victory, the Lucknow Super Giants have kept their hopes alive in the race for the playoffs. Pooran's heroic innings, coupled with the contributions of other team members, demonstrated their determination and resilience. The team's unity and spirit were on full display as they celebrated their well-deserved triumph.
Nicholas Pooran's match-winning knock will undoubtedly be etched in the memories of cricket fans for years to come. His fearless approach to batting and the ability to take the game away from the opposition in the blink of an eye have established him as one of the most exciting players in the T20 format.
As the tournament progresses, fans eagerly await the next explosive innings from Nicholas Pooran and the continued success of the Lucknow Super Giants. With the playoffs within reach, the team will look to build on their recent victory and maintain their winning momentum in the remaining matches.
In the unpredictable world of T20 cricket, Nicholas Pooran has once again reminded everyone that taking risks can lead to remarkable rewards.