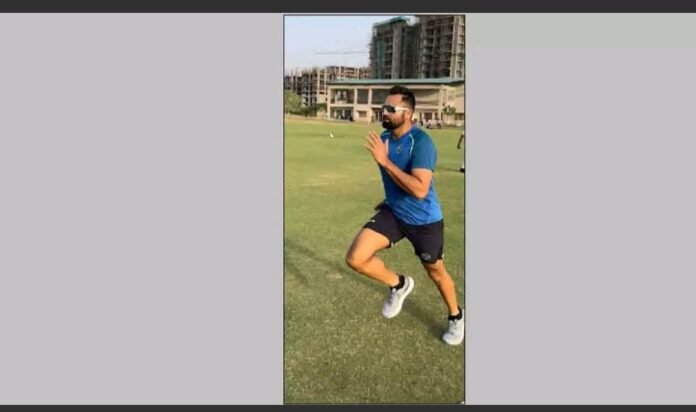 In an exciting development, Aniket Choudhary, known for his consistent performances as a fast bowler in Rajasthan, has been selected as one of the net bowlers to assist the Indian cricket team in their preparation for the highly anticipated World Test Championship (WTC) final. The final is scheduled to take place in England from June 7 to 11.
Aniket Choudhary's inclusion as a net bowler is a testament to his dedication and skill in the sport. Over the years, he has established himself as one of the most reliable and hardworking fast bowlers in Rajasthan. His unwavering commitment and tireless efforts have not only earned him recognition but have also made him a valuable asset in the cricketing circuit.
The WTC final holds immense significance for the Indian team, and thorough preparation is crucial for their success. Aniket's presence in the net sessions will undoubtedly provide invaluable support to the Indian players, allowing them to fine-tune their techniques, adapt to the English conditions, and strategize for the ultimate battle against their opponents.
As a net bowler, Aniket Choudhary's responsibilities will encompass delivering quality deliveries, replicating the line and length of key opposition bowlers, and challenging the Indian batsmen during practice sessions. His experience and familiarity with different pitch conditions will offer crucial insights and aid the team's overall preparation for the challenging encounters that lie ahead.
The Indian team management's decision to include Aniket Choudhary as a net bowler highlights the importance of a comprehensive and well-rounded preparation strategy. Net bowlers play a pivotal role in enhancing the team's overall performance, allowing players to sharpen their skills, build confidence, and adapt to varying match scenarios.
Aniket's selection is a well-deserved opportunity for him to showcase his talent at the highest level. His consistent performances in Rajasthan cricket have undoubtedly caught the attention of the national selectors, and this stint with the Indian team will provide him with invaluable exposure and experience, further fueling his aspirations to represent the country on the international stage.
As cricket enthusiasts eagerly await the commencement of the WTC final, the presence of dedicated individuals like Aniket Choudhary will undoubtedly contribute to the Indian team's preparation and inspire their pursuit of glory. With his relentless work ethic and skill, Aniket is poised to make a positive impact, both as a net bowler and as a role model for aspiring cricketers.
The stage is set, and the Indian team, fortified by the valuable contributions of net bowler Aniket Choudhary, aims to script a memorable victory in the WTC final, etching their names in cricketing history.