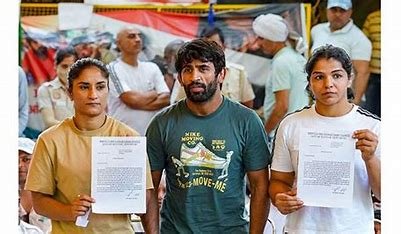 In a significant development, wrestlers in India have taken to the streets to protest against Brij Bhushan Sharan Singh, the former chief of the Wrestling Federation of India (WFI). Their demands include the arrest of Singh for his alleged sexual harassment of women wrestlers. The athletes, including renowned names like Bajrang Punia, Sakshi Malik, and Vinesh Phogat, have been staging a protest at Jantar Mantar for the past 22 days.
The wrestlers' cause received a boost when the Indian Olympic Association (IOA) decided to intervene and assume control of all activities of the WFI. In a letter dated May 12, the IOA instructed the WFI's secretary general to hand over official documents and financial instruments to its ad-hoc panel. This move effectively sidelines the outgoing office bearers and places the IOA in charge of running the federation.
The WFI has expressed its willingness to comply with the IOA's directive, stating that they were already cooperating with the authorities. The dissolution of the current WFI is being hailed by the protesting wrestlers as the "first step" in their fight for justice. Bajrang Punia, an Olympic bronze medallist, declared that their fight had begun in earnest and they would persist until justice was served.
Vinesh Phogat, an Asian Games gold medallist, criticized the ruling party for not supporting their cause. She announced that the wrestlers would be reaching out to women parliamentarians of the ruling party, urging them to come forward and extend their support in the fight for the dignity of women.
Meanwhile, the IOA's ad-hoc committee has assured that the process to elect new WFI office bearers will be completed within a 45-day timeframe. Once the elections are held, the administrative powers will be returned to the WFI. This temporary measure ensures that the federation's affairs are managed until a new elected body is in place.
The wrestlers' protest and the IOA's intervention highlight the urgency and significance of addressing the allegations against Brij Bhushan Sharan Singh. With the IOA taking control and the wrestlers determined to fight for justice, it remains to be seen how this situation unfolds and whether it leads to concrete actions against the accused.