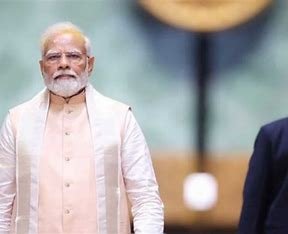 In a recent episode of his monthly radio broadcast 'Mann ki Baat,' Prime Minister Narendra Modi lauded the Education Ministry's youth exchange program, 'Yuva Sangam,' as a remarkable initiative to promote India's diversity and strengthen people-to-people connections. This visionary program offers students from different regions of the country the unique opportunity to visit other states and immerse themselves in diverse cultures and heritage.
With an aim to foster understanding and appreciation for India's rich tapestry of traditions, 'Yuva Sangam' serves as a bridge between regions and communities. Prime Minister Modi expressed his enthusiasm for the initiative and urged the participants to share their experiences through blog writing, enabling others to learn and appreciate the program's significance.
The youth exchange program has already made significant strides in promoting people-to-people connections and highlighting India's vibrant diversity. In its first phase, nearly 1,200 students had the chance to explore 22 states across the country, broadening their horizons and deepening their understanding of different cultures, languages, and traditions.
Through 'Yuva Sangam,' young participants become ambassadors of harmony and cultural exchange, forging friendships that transcend geographical boundaries. They return home with a newfound appreciation for the rich heritage of their fellow countrymen, breaking down stereotypes and building a stronger sense of national unity.
By bringing together students from diverse backgrounds, 'Yuva Sangam' lays the foundation for a more inclusive and cohesive India. It not only promotes cultural awareness and empathy but also cultivates a sense of pride in the country's manifold heritage. As participants engage with people from different regions, they gain insights into the distinct flavors of each state, fostering a sense of unity amidst diversity.
The impact of this program extends beyond its participants. As they share their experiences, their narratives inspire others to explore and appreciate the incredible diversity that defines India. Through the power of storytelling, 'Yuva Sangam' becomes a catalyst for fostering mutual respect, understanding, and harmony among the youth of the nation.
In celebrating the 101st episode of 'Mann ki Baat,' Prime Minister Modi emphasized the global reach of his radio program, with people from diverse time zones tuning in to listen. He expressed gratitude for the constructive analysis and widespread engagement that the show has garnered.
As 'Yuva Sangam' embarks on its mission to connect more young minds across the country, it serves as a beacon of hope, bringing together the vast and varied tapestry of India's youth. By nurturing a sense of unity amidst diversity, this initiative stands as a testament to the country's commitment to promoting cultural exchange and fostering deep-rooted connections among its people.
In the grand tapestry of India's unity, 'Yuva Sangam' weaves together the diverse threads of our nation, empowering the youth to embrace their shared heritage while celebrating the richness that lies within our differences.