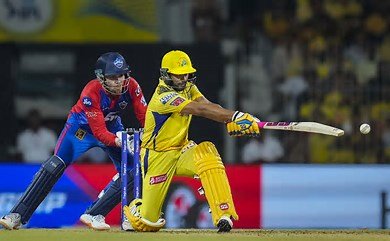 Ambati Rayudu, the star batter of the Chennai Super Kings (CSK), has announced that the IPL 2023 final against the Gujarat Titans will be his last match in the cash-rich league. With a remarkable journey spanning over 14 seasons, Rayudu has left an indelible mark on the Indian Premier League (IPL). As he gears up for his 205th IPL game, the veteran cricketer is eyeing a sixth IPL title and hopes to conclude his illustrious career on a high note.
Having represented two champion teams, the Mumbai Indians (MI) and the Chennai Super Kings, Rayudu has been an integral part of the league's history. The talented batsman took to Twitter to express his gratitude, stating, "2 great teams MI and CSK, 204 matches, 14 seasons, 11 playoffs, 8 finals, 5 trophies. Hopefully 6th tonight. It's been quite a journey." Rayudu's announcement has generated a wave of emotions among fans who have cherished his contributions throughout the years.
Rayudu's IPL journey began in 2010 with the Mumbai Indians, where he tasted success and lifted two IPL titles. However, it was with the Chennai Super Kings that he truly showcased his prowess with the bat. In his debut season for CSK in 2018, Rayudu amassed an impressive 602 runs in 16 games, marking his best season in IPL history. His consistent performances and ability to anchor the innings have made him a reliable and respected player in the league.
As Rayudu prepares for his final match, he holds a significant place in the IPL record books. With 4,239 runs to his name, he stands as the 12th-highest run-scorer in the league. His contributions have not only propelled his teams to success but also left a lasting impact on fans and cricket enthusiasts worldwide.
The IPL 2023 final between the Chennai Super Kings and the Gujarat Titans will be held at the Narendra Modi Stadium in Ahmedabad. Alongside Rayudu, his teammate and CSK captain, MS Dhoni, is also eyeing his fifth IPL title. While fans hope Dhoni continues to grace the league with his presence, they recognize the exceptional career of Rayudu and the invaluable contributions he has made to the IPL.
As the cricketing world eagerly awaits the final showdown, all eyes will be on Rayudu as he steps onto the field one last time. With his skill, experience, and determination, he aims to lead his team to a historic sixth IPL title. Ambati Rayudu's farewell from the IPL marks the end of an era for a player who has given his all to the sport and entertained millions of fans throughout his journey.