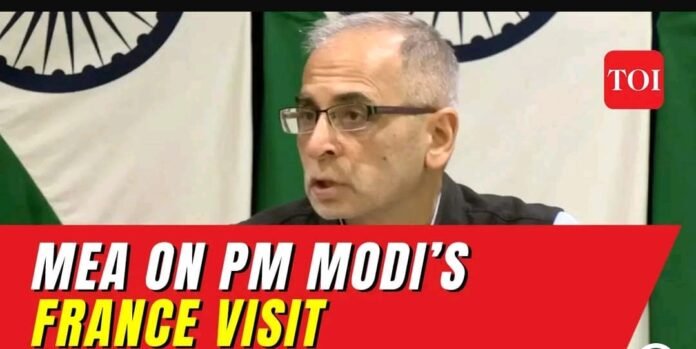 New Delhi: Prime Minister Narendra Modi and French President Emmanuel Macron convened today to bolster the already robust defense cooperation between India and France. The leaders aim to deepen ties and explore new avenues of collaboration in the defense sector.
During their meeting, Prime Minister Modi and President Macron expressed their commitment to enhancing defense ties between the two nations. Recognizing the importance of a strong defense partnership, they discussed various areas of cooperation, including technology transfer, joint research and development, and co-production of defense equipment.
The leaders acknowledged the existing successful defense collaborations between India and France, which have witnessed significant progress over the years. These collaborations have not only strengthened bilateral relations but have also contributed to India's goal of achieving self-reliance in defense production under the Atmanirbhar Bharat initiative.
Both sides emphasized the need to further expand defense cooperation in areas such as naval cooperation, joint exercises, and information sharing. They also explored possibilities for joint ventures and investment in defense manufacturing, leveraging the technological expertise of French defense companies.
Prime Minister Modi praised France's advanced defense capabilities and expressed India's keen interest in benefiting from French expertise and technology. President Macron affirmed France's commitment to supporting India's defense modernization and self-reliance efforts.
The leaders also discussed the evolving security challenges in the Indo-Pacific region and agreed to work closely to ensure peace, stability, and maritime security. They emphasized the importance of a rules-based international order and expressed their commitment to upholding freedom of navigation and respect for territorial integrity.
India and France share a long-standing defense partnership, with collaboration in areas such as aircraft manufacturing, naval technology, and space exploration. The two countries have previously collaborated on projects such as the development of Rafale fighter jets and Scorpene submarines.
The meeting between Prime Minister Modi and President Macron signifies the growing strategic partnership and mutual trust between India and France. It lays the foundation for further strengthening defense cooperation and fostering innovation in the defense sector.
As India continues its pursuit of self-reliance in defense production, partnerships with countries like France play a crucial role in enhancing indigenous capabilities and reducing dependence on imports. The meeting between the two leaders sets the stage for a new chapter in the defense ties between India and France, paving the way for deeper collaboration and mutual benefits.