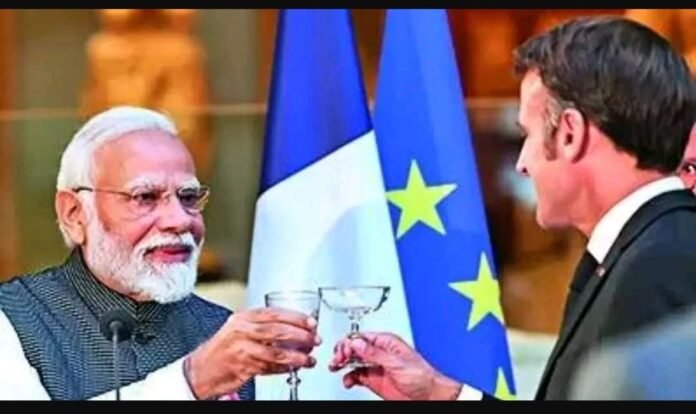 In a remarkable display of diplomatic camaraderie and bilateral ties, French Prime Minister Elisabeth Borne warmly welcomed Indian Prime Minister Narendra Modi to New Delhi with a grand ceremonial reception. The event marked a significant milestone in the relationship between the two nations, with the French Prime Minister's gesture standing as the first of its kind since the hosting of Queen Elizabeth II in 1957.
Amidst the regal backdrop of the Indian capital, the ceremonial welcome was a sight to behold. Prime Minister Borne, adorned in traditional Indian attire, personally greeted Prime Minister Modi with a traditional 'Namaste' – a heartfelt gesture symbolizing respect and unity. The historic significance of the moment was not lost on the attendees as the last such grand reception at this scale had taken place over six decades ago when Queen Elizabeth II graced French shores.
Following the ceremonial welcome, a notable highlight awaited as President [Name] surprised the Indian delegation with an extraordinary gesture of hospitality. In a symbolic demonstration of the profound bond between the two nations, President [Name] personally presented Prime Minister Modi with a rare artifact of historical significance. The gifted artifact, carefully curated to reflect the shared cultural heritage between India and France, serves as a poignant reminder of their longstanding friendship.
The occasion was also marked by productive bilateral discussions, focusing on avenues to strengthen economic, cultural, and strategic ties between the two countries. High-level meetings between their respective delegations paved the way for signing key agreements in areas of mutual interest, fostering innovation, trade, and technology collaborations.
Furthermore, in a joint statement issued by the leaders, both nations reaffirmed their commitment to addressing global challenges such as climate change, terrorism, and sustainable development. The resolve to work closely on regional and international forums reflected the synergy in their shared vision for a peaceful and prosperous world.