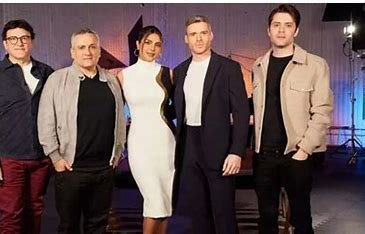 After a riveting and successful first season, the highly anticipated web series, "Citadel," is all set to return with a bang. Amazon Prime Video has officially announced the renewal of "Citadel" for a second season, leaving fans around the world eagerly awaiting the continuation of this thrilling spy drama. With Joe Russo set to direct every episode and David Weil returning as the showrunner, expectations are running high for another action-packed and suspenseful season.
"Citadel" has captivated audiences globally with its innovative storytelling and a stellar cast led by the talented duo of Priyanka Chopra and Richard Madden. The series, produced by AGBO and executive produced by the Russo brothers, has been praised for its ambitious scope and high production values, elevating it to a truly global phenomenon.
The Russo brothers expressed their excitement for the next phase of the "spyverse" and their collaboration with Amazon, highlighting the groundbreaking creativity of "Citadel" both in front of and behind the camera. Jennifer Salke, head of Amazon and MGM Studios, emphasized the show's ability to attract a significant number of new international customers to Prime Video, solidifying its status as a flagship franchise that resonates with viewers worldwide.
As the first season of "Citadel" reaches its thrilling conclusion, fans are already speculating about the direction the story will take in the upcoming season. The inclusion of esteemed actors Lesley Manville and Stanley Tucci has added further depth to the already impressive ensemble, leaving viewers eager to see how their characters' roles unfold.
The success of "Citadel" can be attributed not only to the brilliant performances and captivating narrative but also to the dedicated creative teams, cast, and crew who have poured their heart and soul into bringing this ambitious project to life. The overwhelming response from audiences has prompted Amazon to make the premiere episode of the second season available globally, even without a membership, further solidifying the show's widespread appeal.
As the final episode of the first season prepares to drop on Amazon Prime Video, the announcement of the second season has left fans exhilarated. With its mix of intense action, gripping storytelling, and a truly global perspective, "Citadel" promises to push the boundaries of the spy genre and keep viewers on the edge of their seats once again.
As we eagerly anticipate the return of "Citadel" for its highly anticipated second season, it is clear that the series has cemented its place as a flagship franchise on Amazon Prime Video. With Joe Russo at the helm and a talented ensemble cast, the stage is set for an explosive continuation of this gripping global espionage saga.