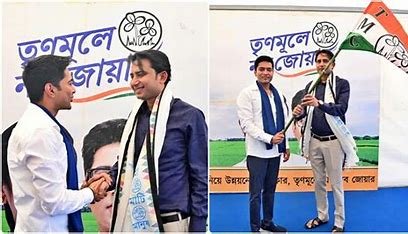 In a recent turn of events, the Congress party in West Bengal faced a setback as its lone MLA, Bayron Biswas, crossed over to the Trinamool Congress (TMC). This development comes at a crucial time when opposition parties are striving to forge unity to challenge the Bharatiya Janata Party (BJP) in the upcoming 2024 general elections. The Congress wasted no time in lashing out at the TMC, accusing them of engaging in opportunistic poaching that ultimately serves the BJP's interests.
Jairam Ramesh, the Congress General Secretary, criticized the TMC's actions, stating that the defection of Bayron Biswas was a betrayal of the people's mandate in the Sagardighi Assembly constituency. Ramesh took to Twitter to express his discontent, highlighting that such poaching tactics have been witnessed in other states like Goa, Meghalaya, and Tripura, undermining opposition unity and inadvertently benefiting the BJP.
Bayron Biswas, a 'bidi' magnate who had won the Sagardighi by-election earlier this year, made his transition to the TMC official at a function in Ghatal. He claimed that his victory was solely due to his goodwill, dismissing any role played by the Congress. This defection, however, falls outside the purview of the anti-defection law, as Biswas was the sole representative of the Congress in the assembly. His move effectively merges the Congress Legislative Party with the larger TMC legislative party.
Adhir Ranjan Chowdhury, the Bengal Congress chief, also expressed his disappointment and resentment towards Biswas for abandoning the party. He accused the TMC, particularly Mamata Banerjee and her nephew Abhishek Banerjee, of using all means at their disposal to lure MLAs from other parties. Chowdhury emphasized that the TMC's desperation stemmed from their defeat in the Sagardighi by-polls.
The Congress' criticism of the TMC's poaching tactics raises questions about the larger goal of opposition unity. With the BJP's growing influence, it becomes imperative for opposition parties to join forces and present a formidable challenge. However, incidents like these undermine the trust and cohesion necessary for such unity.
As the 2024 general elections approach, it is crucial for opposition parties to prioritize a united front against the ruling BJP. Efforts must be made to address internal differences and foster a sense of common purpose. Only through genuine collaboration and strategic planning can the opposition effectively counter the BJP's dominance in Indian politics.
The Congress party's condemnation of the TMC's poaching tactics serves as a reminder of the challenges faced by opposition parties in maintaining unity. The defection of Bayron Biswas highlights the need for greater cohesion and trust among opposition leaders if they are to effectively challenge the BJP's political might in the upcoming elections.