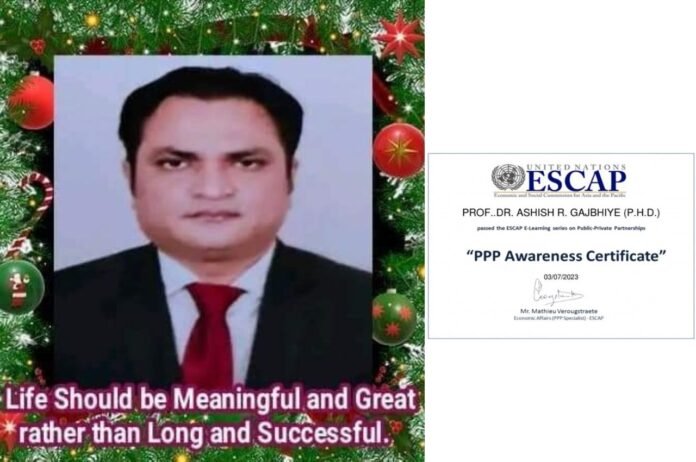 Dr. Ashish Gajbhiye stands as a beacon of excellence in the realm of healthcare and public service in India. With a remarkable list of accolades and an unparalleled commitment to the well-being of his fellow citizens, he has earned a reputation as one of the most qualified and dedicated doctors in the country.
A Record-Breaking Legacy
Dr. Gajbhiye's achievements are not confined to the boundaries of India; they echo globally. His name graces the annals of several esteemed record books, including the World Book of Records, Asia Book of Records, and Indian Book of Records, to name just a few. This unparalleled recognition is a testament to his extraordinary contributions to the field of medicine.
Educational Pinnacle
Dr. Gajbhiye's educational journey is nothing short of awe-inspiring. He holds two Bachelor's degrees, three Postgraduate degrees, along with an impressive array of 15 diplomas and 100 certificates from world-renowned institutions. His pursuit of knowledge has taken him to esteemed institutions such as Harvard Medical School, Stanford Medical School, and John Hopkins University, among others.
International and National Affiliations
His influence extends beyond India's borders. Dr. Gajbhiye is an integral part of the global healthcare community, serving on the editorial board of the International Journal of Medicine, Nursing, and Health Sciences in Austria. His affiliations with organizations such as the Institute of Global Professionals in Bangladesh and the Indian Red Cross Society highlight his dedication to international health causes.
Honorary Doctorates
Leading universities worldwide have bestowed upon Dr. Gajbhiye the highest academic honors. These include a Doctorate of Literature from Brainae University, Delaware, USA, a Doctor of Science from World Leadership University, Zimbabwe, and a Doctorate of Philosophy from St. Thomas-A-Becket University, Africa, Ghana.
Awards Galore
Dr. Gajbhiye's exceptional efforts have not gone unnoticed. He has been honored with awards such as the Merit of Excellence award by the United Nations intergovernmental organizations, the Asia's Best Health Iconic Award by the Tribune Book of World Records, and the International Best Covid Warrior Award by Hope International Book of Records.
Acknowledgment from the World Health Organization
His proficiency in handling health emergencies has garnered recognition from the World Health Organization, with Dr. Gajbhiye receiving 200 certificates of achievement under their Health Emergencies training programs.
A Covid-19 Champion
During the trying times of the Covid-19 pandemic, Dr. Gajbhiye emerged as a champion. He tirelessly served as a medical officer in various government Covid care centers in Maharashtra, earning accolades from Maharashtra, India, and the international community. His selfless devotion extended to providing free consultations to the marginalized, including tribals, farmers, women, and children, in the remote tribal areas of Palghar district.
Awards for Covid-19 Efforts
For his life-saving contributions during the Covid-19 pandemic, Dr. Gajbhiye received a multitude of awards, including recognition from prestigious institutions like Harvard Medical School, John Hopkins University, and UNICEF.
A Visionary Leader
Dr. Ashish Gajbhiye's career spans across both government and private sectors, where he has held pivotal roles. His influence extends from District Quality Cum Hospital Administrator to Principal in accredited colleges and CEO in SRKA Multispeciality Hospitals.
Dr. Ashish Gajbhiye's journey is a testament to the power of dedication, education, and service. He stands as an icon, not only in the field of healthcare but also as a role model for professionals and the public alike. His extraordinary contributions to public health and hospital administration have left an indelible mark on the healthcare landscape of India, making him a true beacon of hope for Mother India.