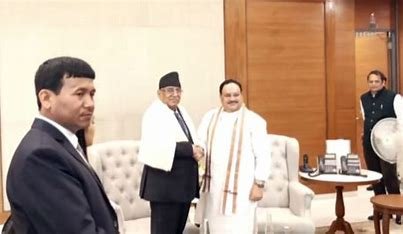 Nepal's Foreign Minister N P Saud has engaged in discussions with his predecessors to deliberate on the potential agenda of Prime Minister Pushpa Kamal Dahal, commonly known as "Prachanda," during his much-anticipated visit to India. Sources close to the minister reveal that Prachanda's visit has faced multiple postponements due to internal factors.
If the visit were to take place, it would mark Prachanda's first foreign trip since assuming office as Prime Minister for the third time in December of the previous year. Seeking valuable insights, Saud held consultations with ex-foreign secretaries and former Nepalese ambassadors to various countries on Thursday, emphasizing crucial matters encompassing water resources, trade, commerce, border issues, tourism, and culture.
Saud, who recently took office as Nepal's Foreign Minister, is meticulously gathering perspectives and recommendations from experienced diplomats to ensure a productive and constructive visit between Nepal and India. However, the official announcement regarding the date and itinerary of the visit is yet to be made by the foreign ministry.
Sources close to the matter speculate that Prachanda's visit to India is likely to occur in June, subsequent to Saud's presentation of the budget for the new fiscal year scheduled for late May. Previously, the government had been preparing for Prachanda's visit between the second and third week of May. It is noteworthy that Prachanda had visited India in July of the preceding year upon the invitation of BJP National President J P Nadda.
This upcoming visit holds immense significance as it aims to strengthen bilateral ties between Nepal and India, covering crucial areas such as water resources, trade, commerce, and cultural exchange. Additionally, the visit may serve as an opportunity to address any outstanding border concerns and promote tourism between the two nations.
Prachanda's assumption of the Prime Minister's office last year came after a dramatic departure from the pre-poll alliance led by the Nepali Congress, as he joined forces with opposition leader K P Sharma Oli. Since then, the government has been actively working to foster diplomatic relationships and address pressing issues through high-level visits.
As Nepal and India share deep historical, cultural, and economic ties, the anticipated visit of Prime Minister Prachanda holds promise for furthering mutual cooperation and understanding. The consultations undertaken by Foreign Minister Saud with former diplomats reflect a commitment to ensuring a fruitful and constructive engagement during Prachanda's visit to India.