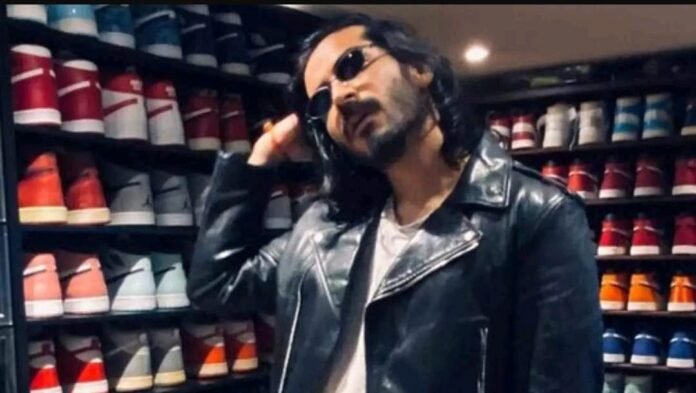 In the world of social media, where celebrities often face a barrage of questions and comments from their followers, actor Harsh Varrdhan Kapoor recently found himself confronted with an interesting query on his Instagram account. A curious follower took to the comments section of one of Harsh's posts, asking if his father, the legendary actor Anil Kapoor, or his brother-in-law Anand Ahuja, who is married to his sister Sonam Kapoor, were responsible for funding his impressive collection of coveted Jordans. However, Harsh's response to the question was nothing short of epic.
The 32-year-old actor, known for his sharp wit and candid demeanor, didn't shy away from addressing the question head-on. In a perfect balance of humor and assertiveness, Harsh replied, "Nahi, main apne paise se khareedta hoon" (No, I buy them with my own money). This response left netizens impressed with his financial independence and authenticity, as Harsh proved that he is self-reliant and takes pride in his hard-earned acquisitions.
Harsh Varrdhan Kapoor, the son of Bollywood icon Anil Kapoor and sister of Bollywood fashionista Sonam Kapoor, has been carving his own niche in the film industry. Despite hailing from a family with a long-standing legacy in the entertainment world, Harsh has made it clear time and again that he aspires to create his path, distinct from the shadows of his esteemed relatives.
Apart from his acting career, Harsh has often been in the spotlight for his fashion sense and sneaker game. A self-confessed sneakerhead, he has an eye for exclusive and limited-edition kicks, with Jordans being a particular favorite. His social media feed is a testament to his love for sneakers, often showcasing the latest additions to his prized collection.
The response from Harsh not only showcased his financial independence but also sent a powerful message to his followers about the importance of standing on one's own feet and working hard to achieve personal goals. The actor's straightforward yet witty retort resonated with many young fans, inspiring them to pursue their passions and dreams with determination and perseverance.
Harsh Varrdhan Kapoor's rise to stardom hasn't been without its challenges. As a member of a high-profile Bollywood family, he faced scrutiny and comparison right from the beginning of his career. However, the actor has chosen to focus on his craft, proving his mettle with noteworthy performances in films that have earned him critical acclaim.
While Harsh acknowledges the privileges that come with his family background, he remains dedicated to forging his own identity in the industry. With a promising career ahead and an unwavering commitment to staying true to himself, Harsh continues to gain respect and admiration from both fans and peers alike.
Harsh Varrdhan Kapoor's brilliant response to an inquisitive Instagram follower showcased his financial independence and unwavering determination to create his path in the world. As he continues to impress with his acting skills and fashion-forward sensibility, Harsh serves as an inspiration to aspiring artists and individuals, proving that with hard work and dedication, one can overcome any challenges that come their way.