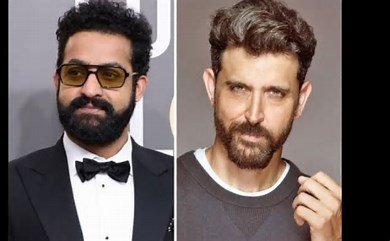 The anticipation for the highly awaited action-packed film "War 2" has reached a fever pitch, with fans eagerly awaiting details about the star-studded project. Reports of Jr NTR joining the film alongside Hrithik Roshan had sent waves of excitement across the internet. Recently, at the sidelines of the IIFA Awards 2023, Hrithik expressed his elation about sharing the screen space with the dynamic "RRR" star.
"I am very excited," exclaimed Hrithik when asked about the prospect of working with Jr NTR in "War 2." The prospect of these two powerhouses of talent coming together has sparked a frenzy among fans, who can't wait to witness their electrifying chemistry on the silver screen.
Adding fuel to the excitement, Hrithik took to Twitter on May 20 to pen an intriguing birthday wish for Jr NTR. In his heartfelt message, he not only wished Jr NTR in Telugu but also hinted at their meeting on the "battlefield." The tweet read, "Happy Birthday @tarak9999! Wishing you a joyous day and an action-packed year ahead. Awaiting you on the yuddhabhumi (battlefield) my friend. May your days be full of happiness and peace… until we meet." This gesture further fueled speculations about the intense action sequences that await audiences in "War 2."
Fans of both Jr NTR and Hrithik were overjoyed by the tweet, eagerly anticipating the clash of these formidable talents in the film. The IIFA 2023 green carpet provided another opportunity for Hrithik to share an update on his upcoming film "Fighter." Directed by Siddharth Anand, "Fighter" is nearing completion, and Hrithik expressed optimism, saying, "We are almost done with it… fingers crossed." Set to release on January 25, 2024, "Fighter" promises to be an aerial action thriller, featuring an ensemble cast including Deepika Padukone, Akshay Oberoi, Karan Singh Grover, and Anil Kapoor.
As the buzz around "War 2" continues to grow, fans can't help but speculate about the intensity and excitement that this collaboration between Hrithik Roshan and Jr NTR will bring. With the film poised to showcase a clash of titans, the title "Warrior's Confluence" perfectly captures the essence of this high-octane cinematic experience. As fans eagerly await further updates, one thing is certain – "Warrior's Confluence" is set to be an explosive spectacle that will leave audiences enthralled and craving for more.