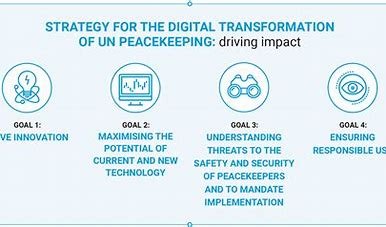 India has been hailed as a "major partner" in the United Nations' strategy for the digital transformation of peacekeeping, according to the UN's peacekeeping chief, Jean-Pierre Lacroix. He commended India for its commitment and engagement in peacekeeping, particularly its initiatives to ensure accountability for crimes against the Blue Helmets.
As the third largest contributor of uniformed personnel to UN Peacekeeping, with over 6,000 military and police personnel deployed across several conflict zones, India plays a crucial role in maintaining global peace and security. Lacroix emphasized the significant contributions made by Indian peacekeepers and their vital role in peace operations.
In addition to its troop and police contributions, India actively supports the UN's initiatives to enhance peacekeeping through various means. One notable contribution is its partnership in the UN's strategy for the digital transformation of peacekeeping. Lacroix highlighted India's role in supporting the implementation of digital technologies, which are essential for improving the efficiency and effectiveness of peacekeeping operations.
India's commitment to peacekeeping goes beyond the deployment of personnel. The country has undertaken several initiatives to promote women's participation in peacekeeping, recognizing the importance of gender equality and the positive impact of women peacekeepers. India deployed a platoon of women peacekeepers to the UN Mission in Abyei, marking its intent to increase the number of women in peacekeeping contingents significantly.
Furthermore, India has taken concrete steps to address crimes against peacekeepers. During its presidency of the UN Security Council in 2021, India launched the 'Group of Friends' to promote accountability for crimes against peacekeepers. Lacroix acknowledged the critical importance of this initiative and emphasized the need for member states to ensure accountability, as it directly contributes to the safety and security of peacekeepers.
Lacroix also expressed concern over the increasingly dangerous environment in which peacekeepers operate, including the threats of fake news and disinformation. He emphasized the necessity of providing peacekeepers with the necessary capacity, training, and resources to tackle these challenges effectively.
Despite the challenges faced by UN peacekeeping, Lacroix highlighted the significant impact of peacekeepers in protecting civilians and preventing the resumption of hostilities. He emphasized the importance of a united international community and support from member states in achieving successful peace processes.
India's recognition as a major partner in the UN's digital transformation of peacekeeping strategy underscores its active role and commitment to global peace and security. Through its contributions and initiatives, India continues to play a vital role in shaping the future of peacekeeping operations.