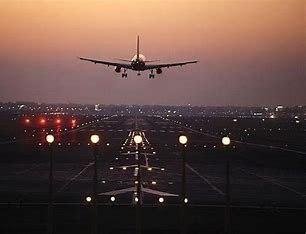 In a significant development for Karnataka's aviation sector, the Directorate General of Civil Aviation (DGCA) has granted approval for the night landing facility at Kalaburagi Airport. This much-awaited permission, accorded on May 17, will enable airlines to operate flight services in all weather conditions, further enhancing the airport's operational capabilities.
The inauguration of Kalaburagi Airport took place in November 2019, and since then, there has been a persistent demand for night landing facilities. The recent approval by DGCA marks a major milestone for the airport, as it allows for the transition from Visual Flight Rules (VFR) to Instrumental Flight Rules (IFR) for all weather operations.
The key feature enabling this transition is the airport's well-designed infrastructure. With a runway measuring 3175 meters in length and 45 meters in width (09-27), Kalaburagi Airport boasts adequate dimensions to accommodate a range of aircraft. The airport's apron provides ample parking space for three aircraft, including one narrow-body A-320 and two regional jets like ATR 72 or Bombardier Q-400, as stated in the official release.
The introduction of night landing facilities at Kalaburagi Airport will have numerous positive implications. Firstly, it will significantly enhance the airport's operational capacity by enabling flights during nighttime hours. This will facilitate increased connectivity, opening up opportunities for more convenient travel options for passengers.
Moreover, the all-weather operational capability will be a boon for airlines operating at Kalaburagi Airport. They can now schedule flights without being restricted by adverse weather conditions, ensuring more reliable and efficient operations. This will enhance the airport's attractiveness to both domestic and international carriers, potentially leading to increased air traffic and economic growth for the region.
The approval by DGCA also highlights the commitment of aviation authorities to improving safety standards. Night landing facilities, coupled with the transition to IFR, provide enhanced navigational aids and instrument-based approaches, improving the overall safety of flights to and from Kalaburagi Airport.
The approval of the night landing facility at Kalaburagi Airport is a significant achievement for the aviation sector in Karnataka. It paves the way for increased connectivity, improved operational efficiency, and enhanced safety. With this new development, the airport is poised to become a vital transportation hub, benefiting the local community, businesses, and tourism industry alike.