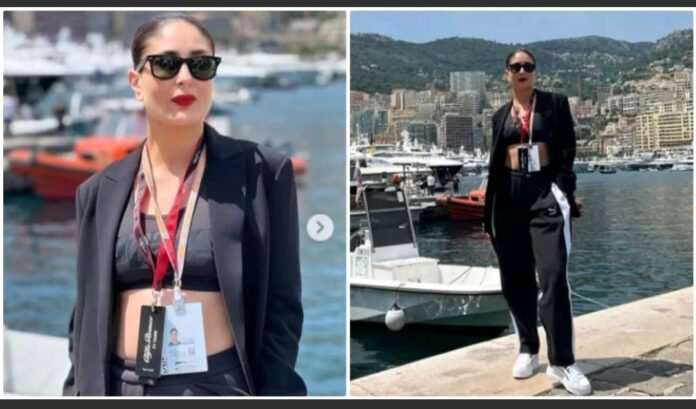 Bollywood superstar Kareena Kapoor Khan added her signature touch of elegance and charisma to the glitzy ambiance of the Monaco Grand Prix 2023. Amidst a constellation of A-list celebrities, she radiated confidence and sophistication in a mesmerizing power suit, capturing the attention of onlookers and paparazzi alike.
Captivating the Spotlight: As the engines roared and the prestigious race unfolded, all eyes turned to Kareena Kapoor Khan, who effortlessly commanded attention with her impeccable fashion sense. Dressed in a stunning power suit that epitomized modern elegance, she exuded an aura of authority and grace, perfectly complementing the luxurious atmosphere of the event.
Boss Lady Vibes: Kareena Kapoor Khan's choice of a power suit showcased her bold and empowering personality. The ensemble, expertly tailored to fit her statuesque frame, accentuated her every move, leaving an indelible impression of sheer confidence. With each stride, she personified the epitome of a boss lady, embodying strength and poise in equal measure.
Celebrity Royalty in Monaco: The Monaco Grand Prix is renowned for attracting a constellation of celebrities, and this year was no exception. Kareena Kapoor Khan joined an illustrious lineup of star-studded attendees, including renowned actors, sports icons, and international personalities. The event provided a platform for the crème de la crème of the entertainment and sports worlds to revel in the electrifying atmosphere and witness the adrenaline-pumping race firsthand.
Making Waves with Style: Kareena Kapoor Khan's appearance at the Monaco Grand Prix not only showcased her sartorial prowess but also solidified her position as a fashion icon. Known for her ability to effortlessly carry any ensemble, she once again raised the bar, setting new fashion trends with her power suit ensemble. The choice to don a suit at a glamorous event like the Monaco Grand Prix demonstrated her knack for pushing boundaries and redefining red carpet fashion.
A Timeless Icon: Kareena Kapoor Khan has long been revered as an icon of beauty and style in the world of Bollywood. With her appearance at the Monaco Grand Prix, she reaffirmed her status as a timeless fashionista, leaving an indelible mark on the minds of fashion enthusiasts and fans around the globe.
Kareena Kapoor Khan's presence at the Monaco Grand Prix 2023 added an extra dose of glamour and elegance to an already star-studded event. Her choice of a power suit, exuding confidence and authority, showcased her inimitable style and reinforced her status as a fashion icon. As the racing cars sped by, Kareena Kapoor Khan's unforgettable fashion statement will be remembered as a true manifestation of boss lady vibes amidst the celebrity royalty of Monaco.