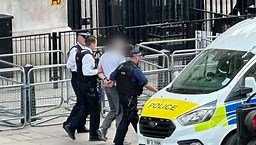 In a startling incident on Thursday, a man was arrested on suspicion of criminal damage and dangerous driving after a car crashed into the gates of 10 Downing Street, the official residence of British Prime Minister Rishi Sunak. The Metropolitan Police swiftly responded to the scene, and while armed officers remained on guard at the Prime Minister's office, the cordons around the street were lifted.
The car collision occurred at approximately 16:20 local time on Whitehall, prompting immediate action from law enforcement. Fortunately, there were no reported injuries resulting from the incident. The arrested individual, a heavy-set man with white hair, was seen being led away in handcuffs by armed Met Police officers.
Eyewitnesses described hearing a loud bang and observing officers shouting at the suspect while deploying taser guns before making the arrest. Images circulating on social media displayed a silver Kia passenger car with its boot open, wedged into the gates of Downing Street, which is fortified with barriers and a robust double-barrel black iron gate.
CCTV footage revealed that the car emerged from a nearby car park adjacent to the Ministry of Defence building, traversed Whitehall, abruptly stopped, and then forcefully rammed into the gates of Downing Street. The incident has prompted a review of security measures on one of the most prominent streets in the world, which has been on heightened alert since the threat posed by the Irish Republican Army in the 1990s.
This occurrence follows a similar incident near the White House just days ago when a 19-year-old Indian-American man crashed a truck into a security barrier. However, no explosives were found, and there were no reported injuries.
The Metropolitan Police's counter-terrorism unit has not been involved in the ongoing investigation at this stage, indicating that the incident is likely being treated as a criminal act rather than a terrorist-related offense.
As authorities continue their inquiries, the incident serves as a reminder of the constant vigilance required to safeguard high-profile political residences and highlights the dedicated efforts of law enforcement to maintain public safety.
In the aftermath of the crash, Prime Minister Rishi Sunak, who was present in his office at the time, departed through an alternative exit as part of a pre-scheduled departure. Downing Street officials initially took precautionary measures by remaining indoors but soon resumed their activities, with the Cabinet Office adjacent to 10 Downing Street also returning to normal functioning.
The investigation into the motive and circumstances behind the car crash is ongoing, with authorities meticulously examining the vehicle and collecting evidence. The incident serves as a stark reminder of the importance of robust security protocols in protecting key government establishments, ensuring the safety of leaders, and upholding the functioning of democratic institutions.