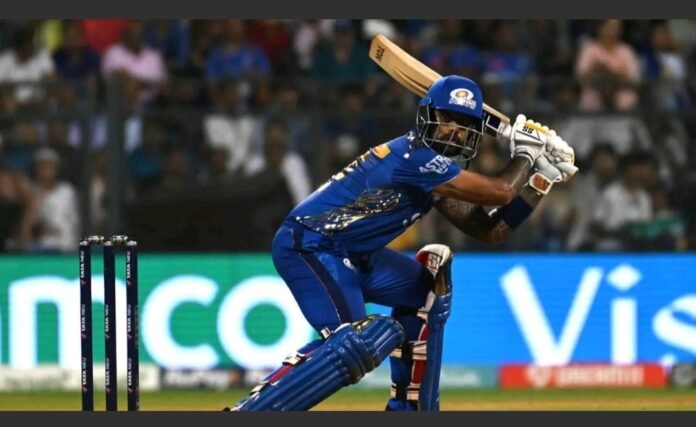 In a thrilling encounter at the Wankhede Stadium, Suryakumar Yadav's stunning century propelled the Mumbai Indians to a remarkable 27-run triumph over the defending champions, Gujarat Titans. The dynamic batsman's scintillating knock not only secured victory but also boosted the team's confidence, according to captain Rohit Sharma. This remarkable comeback by the Mumbai Indians after a lackluster start to the season highlights Yadav's invaluable contribution and his ability to inspire the team.
On Friday's match, Suryakumar Yadav reached the pinnacle of his form, showcasing an extraordinary display of batting prowess. His breathtaking century left the opposition in awe and paved the way for Mumbai Indians' emphatic victory. Yadav's exceptional innings not only entertained the fans but also underscored his importance as a vital cog in the Mumbai Indians' batting lineup.
Captain Rohit Sharma was effusive in his praise for Suryakumar Yadav's outstanding performance. Sharma acknowledged that Yadav's confidence has had a transformative effect on the team, especially following a lackluster start to the season. The skipper's admiration for Yadav's abilities and his positive impact on the team's morale speak volumes about the talented batsman's influence in Mumbai Indians' resurgence.
Mumbai Indians' resurgence after a disastrous start to the season can largely be attributed to the return of Suryakumar Yadav to his prime form. His scorching century against the defending champions served as a turning point, infusing renewed belief and energy into the team. The Mumbai Indians, known for their fighting spirit, have rallied behind Yadav's stellar performance, showcasing their determination and resilience on the field.
Suryakumar Yadav's unwavering self-belief and fearless approach at the crease have had a contagious effect on his teammates. His confidence has permeated through the ranks, inspiring the Mumbai Indians to bounce back from a string of disappointments. The team now exudes a renewed sense of purpose and has rediscovered their winning formula, thanks in large part to Yadav's exemplary display and his ability to instill confidence in his fellow players.
Suryakumar Yadav's scintillating century against the Gujarat Titans showcased his immense talent and reaffirmed his status as one of the most dynamic batsmen in the IPL. His exceptional performance not only led the Mumbai Indians to a resounding victory but also lifted the team's spirits after a sluggish start to the season. With Yadav's confidence rubbing off on the entire squad, the Mumbai Indians are now poised for an exhilarating comeback, ready to challenge any opponent that comes their way.