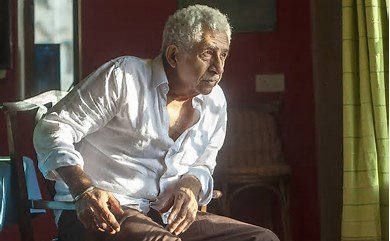 Renowned veteran actor Naseeruddin Shah recently shared his thoughts on why Bollywood's iconic trio, Shah Rukh Khan, Salman Khan, and Aamir Khan, choose to remain silent on socio-political issues. Speaking his mind without mincing words, Shah shed light on the concerns and apprehensions that might deter these superstars from speaking up.
According to Shah, the primary reason behind the Khans' silence is the fear of harassment. He emphasized that they have a lot at stake and would face not only financial consequences but also potential attacks on their entire establishments. The actor highlighted the gravity of the situation, stating that it goes beyond losing a few brand endorsements; it pertains to the relentless targeting of their entire professional existence.
Shah's analysis stems from his own experiences as he recently faced backlash for his comments on a section of Muslims celebrating the Taliban's takeover of Afghanistan. He also expressed his concerns about the growing right-wing mentality in society and the harassment faced by anyone who dares to speak against it. He emphasized that the issue cuts across ideological boundaries, affecting anyone who opposes the rising extremist mindset.
Furthermore, the veteran actor drew attention to a disturbing trend in the Hindi film industry. He stated that filmmakers are being encouraged to create "pro-government" and jingoistic movies, which he outrightly labels as propaganda. Shah drew a striking parallel to Nazi Germany, where filmmakers were coerced into making films that propagated the Nazi philosophy.
Shah's candid insights shed light on the complex dynamics of the film industry, where fear and pressure often stifle voices that could bring about meaningful change. The Khans, being prominent figures with massive followings, may be hesitant to jeopardize their personal and professional lives by expressing opinions that challenge the status quo.
In a time when public figures are increasingly under scrutiny for their words and actions, Naseeruddin Shah's analysis provides valuable insight into the challenges faced by those in the limelight. It calls for a broader understanding of the complexities of the entertainment industry and the significance of protecting freedom of expression, even in the face of potential backlash.
As the world continues to grapple with socio-political issues, it is imperative to foster an environment where artists and public figures feel safe to express their thoughts without fear of retribution. Only then can we truly embrace diverse perspectives and engage in meaningful dialogues that lead to positive change.