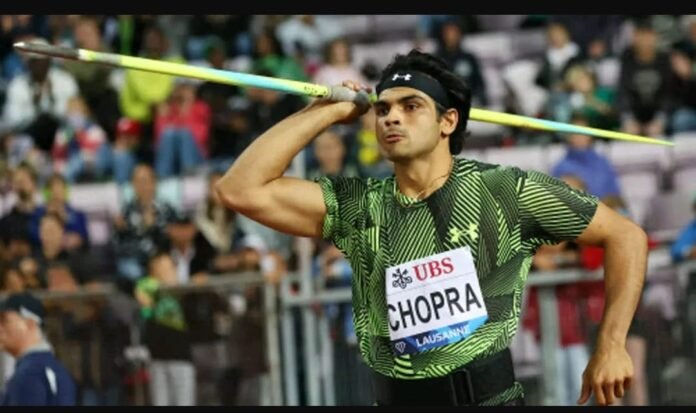 In a stunning display of his prowess, Neeraj Chopra, the reigning Olympic champion, marked his triumphant return to the field after a one-month injury lay-off by clinching first place at the Lausanne leg of the prestigious Diamond League on Friday. The Indian javelin thrower proved his exceptional form once again, solidifying his status as one of the world's premier athletes.
Following his historic gold medal win at the Tokyo Olympics, expectations were high for Neeraj Chopra as he stepped onto the field in Lausanne. Despite his recent setback, he showcased unwavering determination and an indomitable spirit that has come to define his remarkable career.
Chopra's performance in Lausanne was nothing short of sensational. With every throw, he demonstrated a remarkable combination of technique, strength, and precision. The crowd held their breath as his javelin soared through the air, covering vast distances with seemingly effortless ease. It was a sight to behold as the Olympic champion consistently outperformed his competitors.
The victory not only secured Chopra another well-deserved Diamond League title but also showcased his ability to bounce back from adversity. Overcoming his injury and resuming training with dedication and discipline, he proved that setbacks can only serve as fuel for future success.
Neeraj Chopra's journey has been an inspiration to many aspiring athletes across the globe. His relentless pursuit of excellence, combined with his unwavering humility, has endeared him to fans and fellow competitors alike. With each achievement, he continues to raise the bar and redefine the possibilities in the world of javelin throwing.
As the world watches Neeraj Chopra's remarkable comeback, it is evident that he is far from finished. With his sights set on new heights and even more illustrious victories, he has firmly established himself as a force to be reckoned with in the realm of athletics. The future holds great promise for this exceptional talent, and fans eagerly anticipate his upcoming performances.
In securing first place at the Lausanne leg of the Diamond League, Neeraj Chopra once again proves that he is a true champion, both on and off the field. His remarkable triumph serves as a testament to his unwavering commitment, extraordinary talent, and unyielding spirit. As he continues to make waves in the world of athletics, one thing is certain—Neeraj Chopra's name will forever be etched in the annals of sporting greatness.