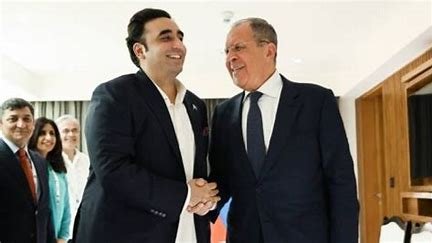 Pakistan and Russia have taken a significant step towards strengthening their economic cooperation by inaugurating a direct shipping service between the two nations. The move aims to enhance trade, economic, and energy ties, opening up new avenues for bilateral growth and collaboration.
In a ceremony held in Karachi, a ship laden with 36,000 tons of goods set sail from the Karachi port towards St Petersburg, marking the commencement of the first-ever direct shipping line between Pakistan and Russia. This landmark development signifies a shift in Pakistan's efforts to diversify its trade partners and reduce dependency on any particular country or bloc.
Minister of State for petroleum and energy, Musaddik Malik, emphasized Pakistan's commitment to pursuing its national interests rather than aligning with any specific camp. He stated that the direct shipping service with Russia is primarily aimed at securing affordable oil to meet Pakistan's energy demands. By seeking alternative sources, Pakistan hopes to alleviate the burden of high external debt and stabilize its local currency.
The container ship is expected to reach St Petersburg in approximately 18 days, showcasing the improved connectivity and logistics infrastructure between the two nations. The Russian Consul General in Karachi, Andrey Viktorovich, expressed his country's desire to expand trade ties with Pakistan, underscoring the potential for Pakistani exports, including rice, fruits, vegetables, sports goods, and textiles, to find a market in Russia.
This development reflects the evolving dynamics of Pakistan-Russia relations, which have transcended the legacy of Cold War hostilities. Over the years, both countries have engaged in diplomatic dialogue and mutual cooperation, paving the way for broader economic collaboration.
The establishment of a direct shipping line is expected to enhance trade and business ties by streamlining logistics, reducing costs, and boosting efficiency. It provides an opportunity for Pakistani exporters to access the Russian market more directly, tapping into its vast consumer base and diversifying their export destinations.
Furthermore, the direct shipping service will also facilitate the import of Russian crude oil at discounted rates, meeting Pakistan's energy needs and supporting its ongoing economic development. The country's efforts to revive the International Monetary Fund (IMF) bailout package, approved in 2019, will be bolstered by securing affordable energy resources.
As Pakistan and Russia forge closer economic ties through this direct shipping service, both countries stand to benefit from enhanced trade, increased investment opportunities, and strengthened bilateral relations. The collaboration demonstrates Pakistan's proactive approach in pursuing its national interests while fostering mutually beneficial partnerships on the global stage.