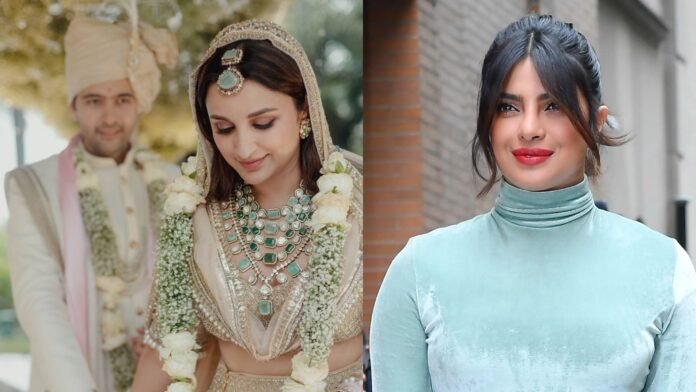 Parineeti Chopra, following in her sister Priyanka Chopra's footsteps, recently organized a pre-wedding sports day as part of her upcoming nuptials. The event, inspired by Priyanka's grand pre-wedding festivities, was a day of fun and games for close friends and family.
The pre-wedding sports day took place at a picturesque location, echoing the extravagance of her sister's celebrations. Parineeti, known for her lively spirit, embraced the idea of celebrating her big day with an active twist.
The event featured a range of sports and activities, from cricket to badminton, giving attendees a chance to bond and enjoy some healthy competition. The bride-to-be herself participated enthusiastically, showcasing her sporting skills and infectious enthusiasm.
Like Priyanka's pre-wedding sports day, Parineeti's event was a blend of tradition and modernity, allowing guests to unwind and create lasting memories. The actress emphasized the importance of celebrating love in a way that resonates with her personality and values.
The pre-wedding sports day also served as a platform for friends and family to extend their warm wishes to Parineeti and her fiancé. The event fostered a sense of togetherness and excitement as the couple prepares to embark on this new journey together.
More About Parineeti's Pre-Wedding
The Chopra sisters' pre-wedding celebrations reflect the changing dynamics of Indian weddings, where couples are increasingly adding unique and personalized elements to their festivities. These events are not just about rituals but also about creating moments of joy and bonding with loved ones.
Parineeti's decision to host a sports day aligns with her reputation for being adventurous and outgoing. It's a testament to her desire to infuse her wedding celebrations with her own vibrant spirit and create a memorable experience for all involved.
As the day concluded, Parineeti Chopra expressed her gratitude for the love and support she received from her friends and family. The pre-wedding sports day was a delightful prelude to what promises to be a joyous wedding celebration.
In a world where weddings often come with high expectations and grandeur, events like Parineeti's pre-wedding sports day and Priyanka's celebrations remind us that love can be celebrated in myriad ways, reflecting the personalities and preferences of the couple. It's a refreshing departure from tradition, emphasizing the importance of personalization and authenticity in these special moments.