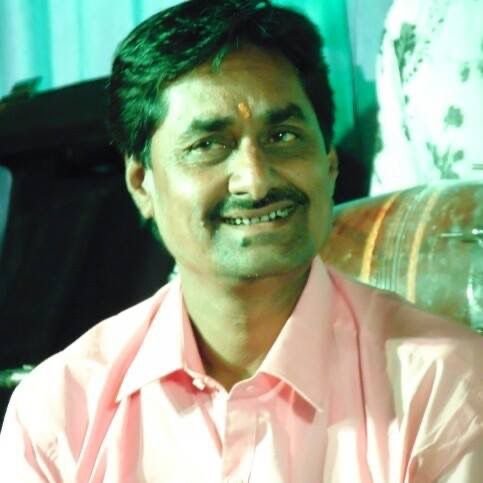 Ram Pande is a renowned professional singer, music director, music composer, and songwriter. He was born in Akola, Maharashtra, India on 08th November 1964.
Early Life and Education :
Ram Pande completed his primary education at Nutan High School, Akola, Maharashtra.
He was interested in singing since his childhood time, from the age of around 4-5 he used to sing a song of his way by listening to tapes and radio programs & also inspired by his father ( Pandit Godavaridas Pande ) who was a classical and semi-classical singer.
He has learned the Banaras Gharana Gayaki (The school of singing style in music). His father used to take him along to Bhajan Program, Classical Program, Folk Program, and many other musical shows.
Career :
He was yearning to learn singing but his father was very strict, because there was only one harmonium in the house at that time, so he did not allow anyone to touch his harmonium. But he used to play the harmonium covertly by keeping a thick cloth on it. Later on, his father started giving him talim.
ADDITIONAL GUIDANCE FROM:
Since early childhood extensive training for over 10 years under father Pandit Godavaridas Pande in Vocal, Harmonium, and basic in Tabla. Later guidance from Pandit Bansilal Bharti Ji ( Jaipur Gharana)
SPECIALITY IN :
Ghazal, Bhajan, Geet, Sufi.
Banaras Folk : Sohar, Jas, Kajri, Baramasi, Biraha, Phag/Fag, Chaiti, Jhula
Semi-Classical: Banarsi Thumari, Gaya Thumari, Lucknow Thumari, Dadra,
Other : Marwadi Bhajan, Marathi Bhajan/Abhang, Gurunanak Shabad, Gujrati Garba, Sangeet Sandhya, Sunderkand Path.
Also all Types Of Musical Forms.
MEDIA COVERAGE :
Broadcaster from All India Radio. Performed extensively on various other Indian Tv Channels such as DD National, Colours Tv ,RRC Akola, UCN Nagpur and worked for many labels and channels, especially as a music composer and as a music director which includes Sanskar International Tv Channel, Subh Tv Channel, Santsang Tv Channel, Sadhna Tv Channel and many others. Labels like – T-series, Shemaroo, Times Of Music, Red Ribbon, Planet 9, Go Bindass, Wings, Ultra Bhakti, and Pen Bhakti. Ajivasan Sound and many more.
HONOURS & AWARDS :
Bhajan Samrat Akola/ Vidarbha Award (2004)
Nawaaz-E-Ghazal Award (2002)
Swadeshi Mela Varansi Achievements Award(2016), Sammanpatra by Government of Maharashtra (2016) ,Voice Of Kishor Kumar(Senior Judge), Golden Jubilee Award(2017), Shree Ram Utsav Samithi Sangathan Award(2017&2018), Shree Tape Hanuman Sangeet Samaroh Award, Navdurga Sangeet Sangathan Aaward( Proud of Akola-2018), Shree Sharda Utsav Samithi Award(2018), Gungaurakh Purushkar Award (2018) , Uttar Bhartiya Manch Award(2017)