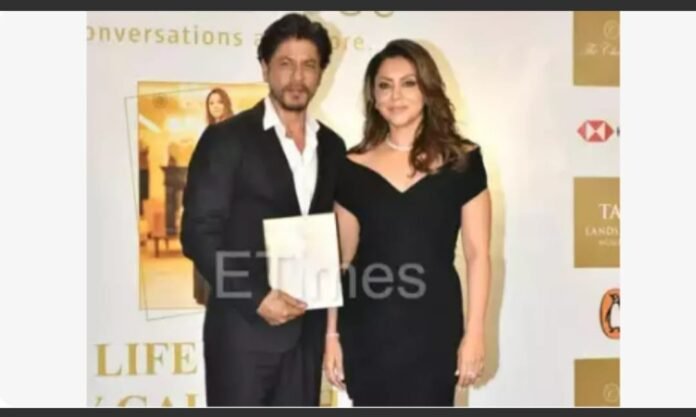 In a splendid evening of elegance and celebration, Bollywood superstar Shah Rukh Khan proudly introduced his wife, Gauri Khan's, latest masterpiece—a captivating coffee table book entitled 'My Life In A Design.' The highly anticipated launch event witnessed the power couple radiating charm and grace, capturing the essence of their shared success.
Gauri Khan, renowned for her expertise in interior design and hailed as a force to be reckoned with in the industry, mesmerized attendees with the story of her remarkable journey. The beautifully curated book serves as a testament to her exceptional talent and unwavering dedication, showcasing the evolution of her illustrious career.
'My Life In A Design' immerses readers in the world of Gauri Khan's artistic brilliance, offering a glimpse into her imaginative process and transformative creations. From opulent celebrity abodes to glamorous commercial spaces, the coffee table book unravels the myriad of breathtaking designs she has skillfully crafted throughout her career.
The launch event, brimming with glamour and sophistication, witnessed a star-studded guest list, including notable celebrities, renowned designers, and esteemed members of the entertainment industry. As the evening unfolded, Shah Rukh Khan took the stage, exuding pride and admiration for his wife's extraordinary accomplishments.
In his heartfelt speech, Shah Rukh Khan expressed his unwavering support for Gauri, describing her as the epitome of talent, resilience, and inspiration. With a touch of humor, he playfully proclaimed Gauri as the busiest member of their family, emphasizing her unwavering commitment to her craft and the indelible mark she has left on the design world.
As the pages of 'My Life In A Design' were unveiled, guests were treated to a visual feast of awe-inspiring interiors, each bearing Gauri Khan's distinctive touch. The coffee table book seamlessly combines captivating visuals and insightful anecdotes, providing a deeper understanding of Gauri's creative process and her ability to breathe life into spaces.
With the launch of 'My Life In A Design,' Gauri Khan has not only added another feather to her cap but has also empowered countless aspiring designers to chase their dreams fearlessly. Her success mantra of dedication, relentless pursuit of excellence, and an unwavering passion for design echoes throughout the pages, serving as a guiding light for aspiring artists.
As the event came to a close, Shah Rukh Khan and Gauri Khan stood hand in hand, their synergy and unwavering support for each other evident to all. Their presence as a power couple in the entertainment and design realms remains an inspiration, proving that love, talent, and determination can create an indomitable force in any field.
'My Life In A Design' stands as a testament to Gauri Khan's exceptional talent and the mark she has left on the world of interior design. With Shah Rukh Khan as her unwavering cheerleader, Gauri continues to redefine boundaries and showcase her creative brilliance, leaving an indelible legacy for generations to come.