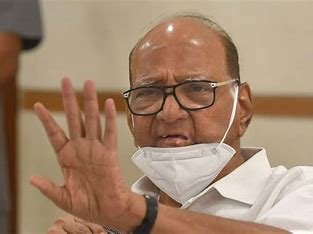 In a recent development, senior Nationalist Congress Party (NCP) leader Jayant Patil was summoned by the Enforcement Directorate (ED) in Mumbai for questioning. Responding to the situation, NCP chief Sharad Pawar hinted that the actions against certain NCP leaders could be a consequence of their refusal to meet the "expectations" of the ruling dispensation. Pawar expressed his party's unwavering commitment to their chosen path, despite the potential consequences they might face.
During a press conference in Pune, Pawar conveyed, "A possibility cannot be denied that the current dispensation has had some expectations from some 9-10 leaders of NCP. We are not ready to meet those expectations and are ready to pay the price for our stand. We will never leave the path we have chosen." While he refrained from explicitly mentioning the BJP-led Central government, Pawar's statements alluded to his veiled criticism of the ruling party.
Pawar further emphasized that the NCP leaders were prepared to face the consequences of their stance. "As some people could not digest this (NCP's stand), hence we have to suffer. But we are not worried about it," he asserted. The NCP chief also highlighted that several key NCP leaders had already faced inquiries and even actions by central investigative agencies.
Pawar cited the case of former home minister Anil Deshmukh, who faced allegations of accepting a substantial bribe. Pawar pointed out the exaggerated nature of the allegations, as the actual amount received was significantly lower than initially claimed. He criticized the misuse of power and expressed concern over the defamation faced by Deshmukh during the investigation.
Additionally, when questioned about the Maharashtra government's decision to revoke the suspension of former Mumbai police commissioner Param Bir Singh, Pawar warned against delving deeper into Singh's cases, suggesting that it could reveal a Pandora's box of pending matters against him.
The NCP chief also addressed the situation surrounding jailed NCP leader Nawab Malik, who had accused former NCB zonal director Sameer Wankhede of misconduct. Pawar stated that Malik's allegations were turning out to be true, indicating that he had been subjected to harassment for speaking the truth.
In conclusion, the recent questioning of Jayant Patil by the ED and the subsequent remarks by Sharad Pawar highlight the ongoing tensions between the NCP and the ruling dispensation. Pawar's statements suggest that the actions against NCP leaders could be driven by political pressure. However, the NCP remains resolute in their commitment to their chosen path, prepared to face the consequences of their refusal to meet certain expectations.