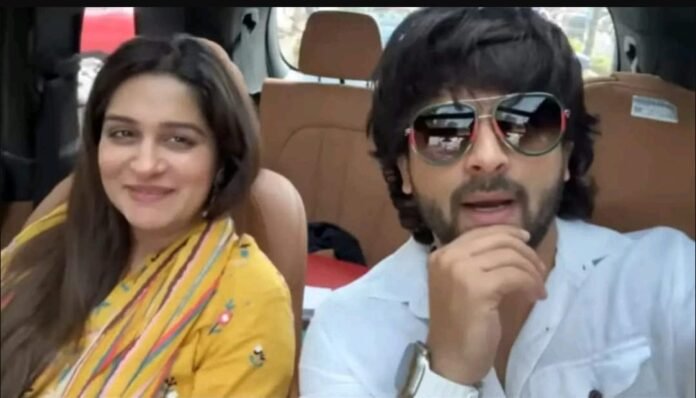 The beloved couple of the Indian television industry, Shoaib Ibrahim and Dipika Kakar, are eagerly awaiting the arrival of their first child. With their due date set for July, the couple is beaming with joy and excitement. Fans and well-wishers are eagerly anticipating the newest addition to their beautiful family. Let's delve into the details of their journey and the heartfelt moments they have shared.
A Blissful Journey: Shoaib and Dipika, who tied the knot in 2018, have always embraced their love for each other. Their journey has been nothing short of a fairytale, capturing the hearts of millions with their genuine bond and chemistry. Their decision to start a family has been met with overwhelming support from their fans, who have been following their journey closely.
Sharing the News: In February, Shoaib and Dipika took to social media to announce the wonderful news of their pregnancy. The couple's heartfelt posts, accompanied by adorable pictures, melted hearts instantly. The announcement resonated with fans and well-wishers, who flooded their social media accounts with love and warm wishes for the upcoming chapter of their lives.
Embracing Parenthood: Throughout their pregnancy journey, Shoaib and Dipika have been actively sharing glimpses of their joyous moments and preparations. From adorable maternity photoshoots to documenting their experiences, the couple has allowed fans to be part of their incredible journey. Their transparency and genuine connection with their followers have only strengthened the bond between the couple and their adoring fanbase.
Nurturing Love and Support: Shoaib has been an exemplary partner, standing by Dipika's side every step of the way. His unwavering support and care have been evident in their social media posts and public appearances. Whether it's accompanying her to doctor appointments or helping with the nursery preparations, Shoaib's dedication to Dipika's well-being is truly commendable.
A Small Bump in the Road: Recently, during a routine pregnancy scan, Shoaib shared an update with their fans. While overall everything is going well, he mentioned that the fluid levels are slightly lower than expected. However, medical professionals are closely monitoring the situation, and both Shoaib and Dipika are following the doctor's guidance to ensure the best possible outcome. Fans and well-wishers have rallied behind the couple, sending prayers and positive vibes their way.
Counting Down to July: With the due date approaching, Shoaib and Dipika are eagerly awaiting the arrival of their bundle of joy. The couple has expressed their gratitude for the overwhelming love and support they have received throughout their pregnancy journey. Fans are excitedly counting down the days until they can shower their favorite couple and their little one with love and blessings.
Shoaib Ibrahim and Dipika Kakar's journey towards parenthood has been filled with love, joy, and the unwavering support of their fans. As they prepare to welcome their first child in July, their fans are eagerly awaiting the next chapter of their fairytale. With Shoaib's reassuring presence and Dipika's radiant smile, this couple is ready to embrace the beautiful journey of parenthood together. Let us join them in sending our heartfelt wishes and prayers for a safe and healthy delivery.