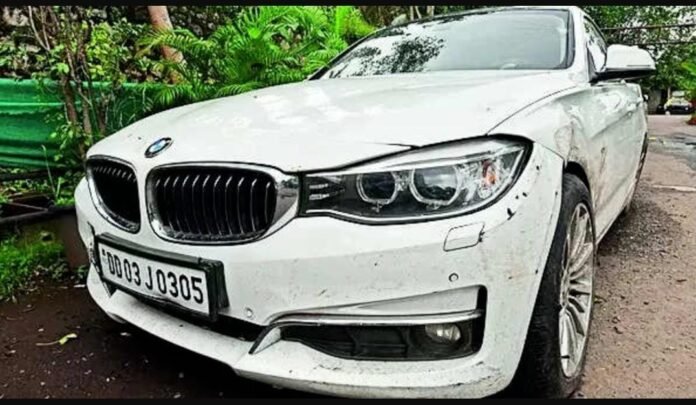 "Teen Arrested for Fatal Incident at Mumbai Airport's T2 Checkpoint Involving Speeding BMW"
In a tragic incident at Mumbai's Chhatrapati Shivaji International Airport's Terminal 2 (T2) checkpoint, a Central Industrial Security Force (CISF) jawan lost his life after being hit by a speeding BMW. The incident has shocked the nation and has resulted in the apprehension of a teenager in connection with the case.
The incident unfolded on a routine day at the T2 checkpoint, where the CISF jawan, identified as Subhash Patil, was on duty, ensuring the security of the airport. At approximately 9:30 AM, a high-speed BMW approached the checkpoint, blatantly ignoring warnings to slow down. Before Patil could react, the vehicle struck him, causing severe injuries.
Patil was immediately rushed to a nearby hospital, but tragically, he succumbed to his injuries shortly after. His untimely demise has left the CISF community and his family in mourning.
The Mumbai Police swiftly launched an investigation into the incident, deploying teams to identify the vehicle and its driver. CCTV footage from the airport's security cameras played a crucial role in tracking down the culprit. Within hours, the police arrested a 19-year-old male, whose identity has not been disclosed due to legal restrictions.
The arrested teenager has been charged with reckless driving, causing death by negligence, and violating traffic regulations. He is currently in police custody, awaiting further legal proceedings.
The incident has raised concerns about the safety of security personnel who work tirelessly to protect the nation's vital infrastructure. Many have called for stricter enforcement of speed limits and improved safety measures at sensitive locations such as airports.
As the investigation continues, authorities are determined to ensure that justice is served for Subhash Patil's family, and measures are put in place to prevent such tragic incidents in the future. The incident serves as a grim reminder of the need for responsible and cautious driving, especially in areas where the safety and security of lives are at stake.