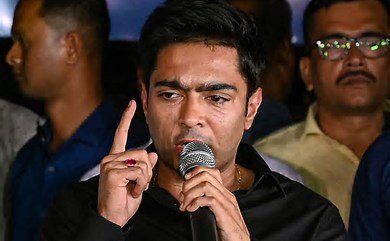 In a significant development, Trinamool Congress (TMC) leader Abhishek Banerjee, nephew of West Bengal Chief Minister Mamata Banerjee, was questioned by the Central Bureau of Investigation (CBI) for over 9 hours on Saturday. The questioning was part of the agency's ongoing investigation into the school jobs scam. Emerging from the CBI's office at Nizam Palace, Banerjee expressed his frustration, calling the questioning a waste of time for both himself and the investigating officers.
Banerjee claimed that the real reason behind his summons was his refusal to be a "pet dog of Delhi's bosses," insinuating political targeting. He further alleged that TMC leaders who resisted bending to the ruling party were being harassed, while BJP leaders involved in various cases were let off easily.
The TMC leader's name had surfaced in a complaint filed by Kuntal Ghosh, a local businessman and accused in the school jobs scam. Ghosh alleged that central investigating agencies were pressuring him to implicate Abhishek Banerjee in the case. When asked about this, Banerjee stated that he had no knowledge of the reasons behind Ghosh's statement.
Banerjee's marathon questioning by the CBI follows his previous encounters with the Enforcement Directorate (ED) in connection with the coal pilferage case. As the nephew of the West Bengal Chief Minister, his political prominence has made him a subject of scrutiny for investigative agencies.
The CBI officers are believed to have questioned Banerjee about the allegations made by Kuntal Ghosh. However, sources suggest that Banerjee denied any involvement in the matter. Throughout the questioning, he maintained his defiance, stating that the harassment would not deter him from his mass outreach campaign or his political battle with the BJP.
The BJP, responding to the allegations made by Banerjee and the TMC, distanced itself from the CBI probe, stating that if TMC leaders had nothing to hide, they should not be bothered by the summonses or make such allegations.
In a show of solidarity, Mamata Banerjee tweeted during her nephew's questioning, highlighting the challenges faced by her state government due to the "agency-raj" of the central government. Abhishek Banerjee, prior to appearing before the CBI, had written a letter informing the agency of his decision to challenge the High Court order in the Supreme Court.
As the political drama unfolds in West Bengal, the questioning of Abhishek Banerjee by the CBI has intensified the ongoing battle between the TMC and the BJP. With allegations, counter-allegations, and legal challenges, the repercussions of this probe are likely to reverberate through the state's political landscape in the coming days.