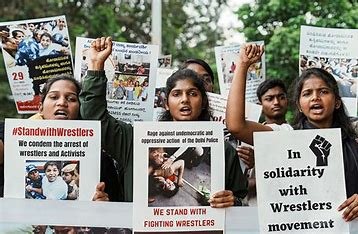 In a shocking turn of events, a group of elite Indian wrestlers, including Vinesh Phogat, Bajrang Punia, Sangeeta Phogat, and Sakshi Malik, found themselves detained by the Delhi police on Sunday. Their detention occurred as they attempted to proceed towards the new Parliament building to hold a women's 'Mahapanchayat' (grand assembly). Disturbing videos of the police's harsh treatment of these top grapplers soon emerged, sparking widespread condemnation from political leaders, sports personalities, and the sporting fraternity as a whole.
The wrestlers had a clear demand – the arrest of Brij Bhushan Sharan Singh, the chief of the Wrestling Federation of India (WFI), whom they accused of sexually exploiting female wrestlers. Despite their detention and the subsequent filing of FIRs against them for alleged violations of law and order, the wrestlers remained resolute in their fight for justice.
Rio Olympic bronze medalist Sakshi Malik took to social media to assure their supporters that they had not given up. She shared a video recounting the cruel treatment they endured at the hands of the police, emphasizing the unwarranted use of force against one woman wrestler by a group of officers. Sakshi's message conveyed their determination to continue the protest and called for ongoing support.
While the wrestlers were released late on Sunday night, they immediately began strategizing their next moves. However, attempts to reach out to Bajrang, Vinesh, Sangeeta, and Sakshi for further comments were unsuccessful, as they were still gathering themselves and had not yet met to discuss their plans.
The police, in response, made it clear that they would not allow the wrestlers to return to Jantar Mantar, the site of their previous protests. The situation escalated to the point where renowned athletes and sports figures expressed their outrage at the treatment of the wrestlers. Abhinav Bindra, India's first individual Olympic gold medalist, described being "haunted" by the horrifying images and emphasized the need for independent safeguarding measures within sporting organizations to ensure a safe and empowering environment for all athletes.
Joining the chorus of support, football captain Sunil Chhetri and former cricketer Kapil Dev both criticized the actions taken against the wrestlers, highlighting the urgent need for a swift resolution to the issue.
As the protest for justice continues, the wrestlers and their supporters remain undeterred. The incident has brought to light the larger issue of athlete safety and the importance of creating an environment that supports and protects individuals in the sporting community. It is a critical moment that calls for empathy, sensitivity, and decisive action to address the grievances raised by these elite athletes.