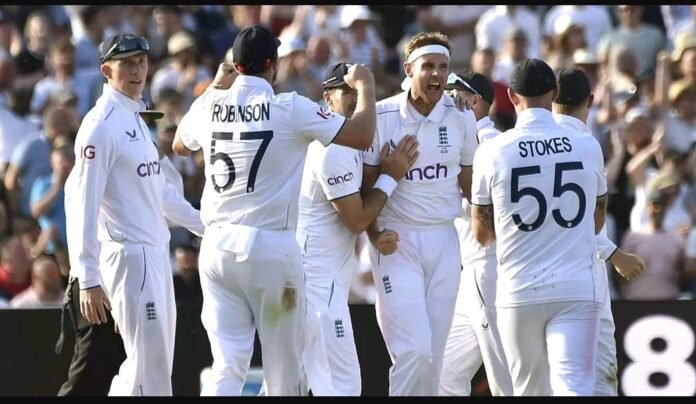 New Delhi – In a sensational turn of events on the fourth day of the first Ashes Test in Birmingham, seasoned pace bowler Stuart Broad delivered a stunning performance, dismissing world number one and two batsmen Marnus Labuschagne and Steve Smith. Broad's crucial breakthroughs have reignited England's hopes of securing a thrilling victory.
Labuschagne and Smith had built a solid partnership, seemingly taking control of the match as they chased down a daunting target of 281 runs set by England. However, Broad, known for his ability to make crucial breakthroughs in key moments, produced a masterful display of swing bowling to dismiss the Australian duo.
The dismissal of Marnus Labuschagne was a moment of pure brilliance. Broad, armed with his sharp line and length, managed to extract movement off the pitch and found the edge of Labuschagne's bat, resulting in a catch to the wicketkeeper. Labuschagne's departure left the Australian camp stunned and gave England a much-needed boost.
As the match approached its climax, Broad struck again, this time removing the ever-dependable Steve Smith. With his trademark accuracy and deceptive pace, Broad induced an outside edge from Smith, and the catch was comfortably taken by the slip fielder. The wicket of Smith, who is known for his resilience and ability to bat long periods, has given England a significant advantage in their pursuit of victory.
With the fall of Labuschagne and Smith, England's hopes have been rekindled, and the momentum has shifted in their favor. The packed crowd at Edgbaston erupted with excitement, recognizing the importance of Broad's heroics in the context of the match.
As the teams head into the final day of the first Ashes Test, England will be buoyed by Stuart Broad's exceptional bowling performance. They will look to capitalize on the crucial breakthroughs provided by their experienced paceman and aim to dismiss the remaining Australian batsmen swiftly to secure a memorable victory.
The thrilling contest between England and Australia has captivated cricket fans worldwide, and with the outcome of the first Test hanging in the balance, anticipation for the final day's play continues to soar. Cricket enthusiasts eagerly await the resumption of play, hoping for more enthralling moments and a nail-biting finish to an already captivating match.