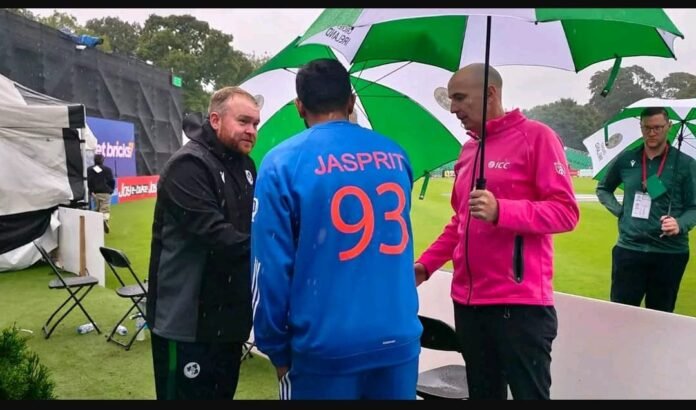 In a captivating start to the T20I series, India showcased their mettle by emerging victorious in a rain-marred encounter against Ireland. The rain gods played a significant role, but India's adaptability and skill ultimately secured them a well-deserved win in the opening match of the series.
Despite the challenging weather conditions, cricket enthusiasts were treated to an exciting clash that saw India's prowess shine through. Ireland's decision to bat first after winning the toss seemed promising initially, but the heavens had other plans. Rain interruptions punctuated the first innings, resulting in a shortened match that was reduced to a limited-overs spectacle.
Ireland's batting lineup displayed moments of brilliance, with notable contributions from key players. However, their momentum was consistently hampered by the unpredictable weather interruptions. The Indian bowlers capitalized on the stop-start nature of the game, maintaining tight control over the proceedings. Seamers and spinners alike adapted remarkably well, exploiting the moisture in the pitch to keep the Irish batsmen on their toes.
When the rain clouds finally relented, India faced a revised target that required a strategic yet aggressive approach. The Indian openers set the tone with a confident partnership, capitalizing on the groundwork laid down by the bowlers. The middle order continued the charge, displaying commendable composure under the circumstances. Crisp strokes, calculated risks, and well-timed boundaries demonstrated India's batting prowess.
A pivotal juncture arrived as the required run rate began to climb due to the revised target. However, India's batsmen exhibited exceptional game awareness, pacing their innings adeptly and ensuring that they kept wickets in hand. A spectacular late assault, marked by calculated big hits, brought India within touching distance of victory.
As the final moments of the match unfolded, the sun broke through the clouds, illuminating India's path to triumph. A well-executed chase, characterized by skillful partnerships and individual brilliance, culminated in a jubilant victory for the Indian team.
This rain-marred series opener exemplified the resilience and adaptability of both teams in the face of adversity. Ireland's spirited performance, despite the interruptions, showcased their potential as a formidable contender. India, on the other hand, demonstrated their depth of talent and ability to thrive under challenging circumstances.
With this victory, India takes an early lead in the series, setting the stage for further thrilling encounters. The T20 format's dynamic nature ensures that every match promises excitement, and this rain-affected encounter was no exception. As the series progresses, cricket enthusiasts can look forward to more exhilarating clashes that test the teams' skills, determination, and adaptability on the field.