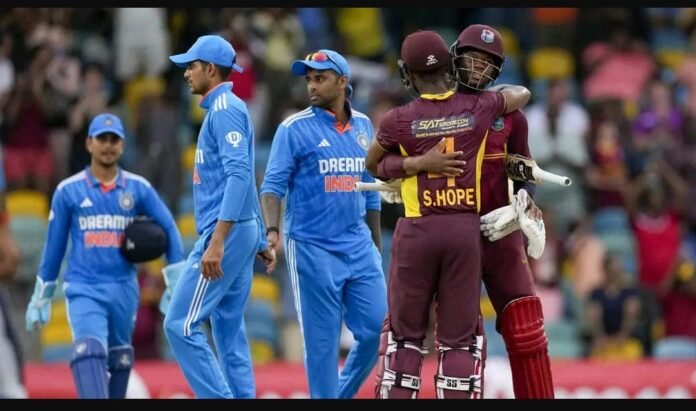 In a thrilling encounter during the second One Day International (ODI), India's aspiring World Cup contenders found themselves grappling with challenges as the West Indies impressively leveled the series. The closely fought match showcased both the potential and vulnerabilities of the Indian side, leaving fans and selectors with much to ponder.
The clash began with high hopes for India's World Cup aspirants, who were eager to make their mark and cement their positions in the squad. However, the West Indies, determined to assert their dominance, brought their A-game and proved to be a formidable opponent throughout the contest.
Despite a strong start, India's batting lineup faced a stern test against the West Indian pacers, who exploited the conditions to unsettle the top order. Several key batsmen struggled to find their rhythm, highlighting the need for consistency and adaptability in the high-pressure international arena.
While a few individual performances showed promise, it was evident that the Indian team lacked the collective resilience needed to tackle the relentless West Indies attack. The middle order, which has often been a stronghold for India, faltered under the pressure, leading to a more modest total than initially anticipated.
In contrast, the West Indian batting display demonstrated depth and maturity. Their batsmen complemented each other, building partnerships and taking calculated risks when required. This cohesive approach allowed them to chase down the target confidently, showcasing the importance of a well-rounded team effort.
On the bowling front, India's pacers showcased their talent, claiming crucial wickets at regular intervals. However, lapses in fielding and missed opportunities proved costly, allowing the West Indies to seize the momentum and dictate terms in the latter stages of the game.
The match also revealed the importance of the spin department, where India has traditionally thrived. With conditions favoring the slower bowlers, the Indian spinners struggled to exert the same control they are known for, highlighting the need for adaptability and versatility in their game plan.
As the series heads towards a decider, the Indian team management faces a challenging task of identifying the right balance between experience and fresh talent. The performances of the World Cup hopefuls have given rise to debates over the final squad selection, with the selectors closely scrutinizing individual displays.
While the loss might be disappointing for India, it serves as a valuable learning experience and a wake-up call for the players aspiring to represent the country in the upcoming World Cup. The series has highlighted areas that require improvement and has presented an opportunity for the team to regroup, strategize, and come back stronger in the decisive clash.
As the cricketing world watches with anticipation, India's World Cup hopefuls must rise to the occasion in the final ODI. The pressure is on to deliver consistent performances, ensuring they can secure their spots in the squad and contribute significantly to India's quest for glory in the forthcoming World Cup.