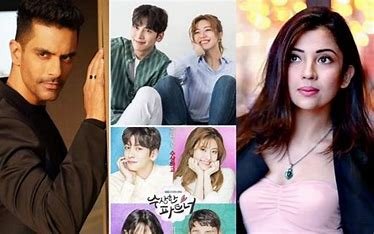 In an exciting announcement, it has been revealed that popular actor Angad Bedi will be featuring in "A Legal Affair," the highly anticipated official adaptation of the beloved Korean series "Suspicious Partner." The original drama, starring Ji Chang-wook and Nam Ji-hyun, captivated audiences with its thrilling storyline and compelling performances. Now, the Hindi version, produced by Jio Studios, is set to bring this gripping tale to Indian viewers.
Bedi, renowned for his remarkable performances in movies such as "Pink," "Tiger Zinda Hai," and "Dear Zindagi," expressed his enthusiasm for exploring new territory in the intense romantic drama genre. While he has previously portrayed the role of a lawyer, "A Legal Affair" promises to offer a different perspective and depth to his character. Bedi acknowledged the challenge of adapting a widely successful Korean drama, as it comes with high expectations from the audience. However, he is confident in the ability of the cast and crew to add their unique touch and make the show a memorable experience.
Paired opposite Bedi is the talented actor Barkha Singh, who is set to bring her own charm and energy to the screen. The duo's chemistry and performances are anticipated to be a major highlight of the series.
Directed by Karan Darra, "A Legal Affair: Unveiling Shadows" has already been extensively shot in the vibrant cities of Delhi and Mumbai. The production team has worked diligently to recreate the intriguing and mysterious ambiance of the original Korean series, ensuring a visually captivating experience for the viewers.
The show is expected to delve into the intricate world of Noh Ji-wook (Angad Bedi), a prosecutor, and Eun Bong-hee (Barkha Singh), a prosecutor trainee, as they collaborate on a perplexing case involving a cunning and dangerous psychopath murderer. The plot promises to keep the audience on the edge of their seats, unraveling secrets and unraveling a web of suspense.
While the release date is yet to be announced, "A Legal Affair: Unveiling Shadows" will be available for streaming exclusively on the JioCinema app or My Jio app. Fans of the original Korean series and enthusiasts of engaging crime dramas can eagerly anticipate this much-awaited adaptation.
As the Indian entertainment industry continues to explore international collaborations and adaptations, "A Legal Affair: Unveiling Shadows" stands as a testament to the global appeal of gripping storytelling. With its talented cast, compelling storyline, and the expertise of the creative team involved, this Hindi adaptation has the potential to captivate audiences and establish its own unique identity.