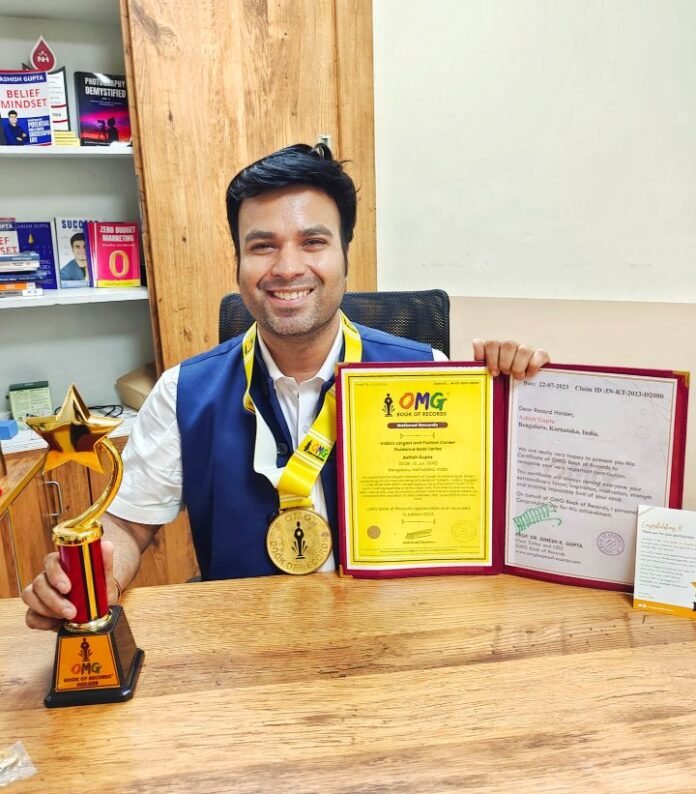 Renowned Author and Career expert, Ashish Gupta, has been honoured with the prestigious OMG National Record-Breaking Award for his outstanding accomplishment of writing an unprecedented 13 books in just one month. The collection, aptly titled "AG's Career Book," encompasses an invaluable resource for students seeking guidance and direction in their educational and professional journeys.
With over 13 years of unwavering dedication to higher education and a profound passion for helping students achieve their career aspirations, Ashish Gupta has cemented his position as a leading authority in the field of career guidance. His relentless pursuit of excellence has not only inspired countless individuals but has also earned him the recognition he truly deserves.
"AG'S Career Book" series encompasses a diverse range of comprehensive and insightful volumes, each tailored to address specific aspects of career development, helping students make informed decisions about their future paths. From personalized coaching techniques to practical strategies for success, Ashish Gupta's books provide invaluable insights that empower students to build their desired careers confidently.
Beyond his prolific work as an author, Ashish Gupta actively engages with educational institutions, offering consultation services to schools and universities to enhance students' experiences and facilitate their journey towards fulfilling careers. His expertise and dedication to educational institutions have resulted in transformative changes, elevating the learning environment and equipping students with the tools necessary to excel in the modern job market.
On receiving the OMG National Record-Breaking Award, Ashish Gupta expressed his gratitude and shared his vision for the future, saying, "I am humbled and honoured to receive this prestigious recognition. My mission has always been to empower students and guide them towards achieving their dreams. This award further strengthens my commitment to making a positive impact on the lives of as many students as possible. I will continue my efforts to bring career guidance to the forefront of education."
Ashish Gupta's remarkable achievement in writing 13 books in a single month has not only earned him national acclaim but has also sparked inspiration and admiration across the country. As his books continue to be sought-after resources for students, his legacy of dedication and service to the educational community will undoubtedly endure for generations to come.
For media inquiries, interviews, or additional information about Ashish Gupta and his exceptional career guidance books, please visit:
About Ashish Gupta:
Ashish Gupta is a distinguished author and career expert with over 13 years of experience in higher education. He has authored 13 books on career guidance in a single month, receiving the OMG National Record-Breaking Award for this extraordinary accomplishment. Ashish is committed to empowering students and enhancing their educational experiences to help them build successful and fulfilling careers. Alongside his writing endeavours, Ashish provides consultation services to schools and universities, making a significant impact on the academic community and inspiring countless students.