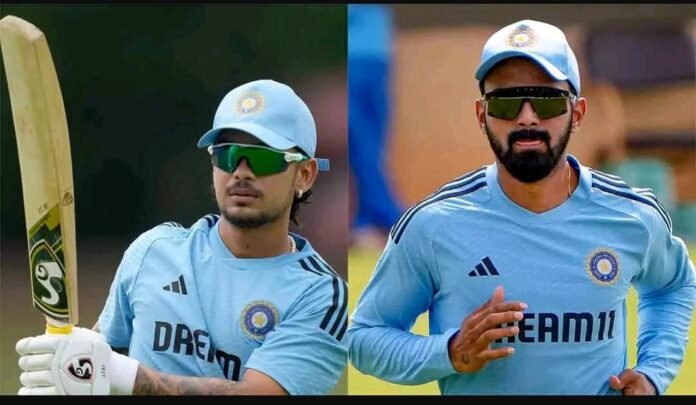 The highly anticipated Asia Cup encounter between India and Pakistan has cricket enthusiasts buzzing with excitement. While the rivalry between the two cricketing giants never fails to deliver nail-biting moments, there's another subplot that's capturing the attention of fans and pundits alike – the Ishan Kishan-KL Rahul dilemma that India faces.
As India prepares to take on their arch-rivals, the team management is confronted with the tricky task of deciding the opening combination. With both Ishan Kishan and KL Rahul in excellent form, the selectors find themselves at a crossroads, seeking the perfect balance in the team.
Ishan Kishan, the young wicketkeeper-batsman, burst onto the international scene with a bang, impressing everyone with his fearless stroke play and adaptability. His explosive style of batting at the top of the order adds dynamism to the Indian lineup, giving the team a chance to capitalize on the powerplay overs.
On the other hand, KL Rahul, a seasoned campaigner, brings experience and stability to the opening slot. His consistency and ability to anchor the innings have been the cornerstone of India's success in recent times. Rahul's versatility allows him to adapt to various formats and situations, making him a valuable asset.
The dilemma is not just about choosing one over the other; it's about finding the right combination that ensures a strong start while also setting a solid foundation for the middle order. The decision becomes even more challenging considering the opposition is Pakistan, known for their formidable bowling attack.
The team management will have to consider several factors when making this selection. The pitch conditions, weather, and team strategy will all play a crucial role in determining who gets the nod. Additionally, the form and recent performances of both players will be under scrutiny.
In such a high-pressure match, it's essential to strike a balance between aggression and stability. Ishan Kishan's ability to take on bowlers right from the outset can put Pakistan on the back foot early in the innings. On the other hand, KL Rahul's knack for building partnerships and rotating the strike can ease the pressure in the middle overs.
One possible approach could be to utilize both players by having Ishan Kishan open alongside Rohit Sharma, while KL Rahul takes the number three position. This way, India can exploit Kishan's aggressive style upfront while ensuring Rahul's presence in the middle order to guide the innings.
The Ishan Kishan-KL Rahul dilemma is a testament to the depth of talent in Indian cricket. While it's a challenging decision, it's a good problem to have. Whichever way the selectors lean, one thing is certain – the Asia Cup clash between India and Pakistan promises to be a thrilling encounter, with the outcome partly hinging on how this selection puzzle is solved. Cricket fans can't wait to witness the drama unfold on the field as these two cricketing powerhouses lock horns once again.