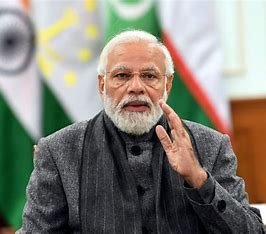 In a poignant gesture aimed at promoting peace and commemorating the victims of the devastating atomic bombing, Prime Minister Narendra Modi unveiled a bronze bust of Mahatma Gandhi in Hiroshima, Japan. The occasion took place during his visit to the city for the annual G7 summit, where world leaders gathered to address global challenges.
Hiroshima holds a significant place in history as the site of the world's first atomic attack on August 6, 1945. The tragic event resulted in the destruction of the city and claimed the lives of approximately 140,000 people. Prime Minister Modi acknowledged the profound impact that the word "Hiroshima" still carries, evoking fear and reminding the world of the catastrophic consequences of violence.
Standing near the iconic A-Bomb Dome, a powerful symbol of resilience and peace, the bust of Mahatma Gandhi serves as a reminder of his teachings on non-violence and compassion. Prime Minister Modi expressed gratitude to the Japanese government for placing the bust in Hiroshima and granting him the honor of unveiling it.
In his remarks, Prime Minister Modi emphasized the relevance of Gandhi's ideals in addressing the challenges faced by the world today, including climate change and terrorism. He stressed that following Gandhi's principles of non-violence and sustainable living is the key to overcoming the climate crisis. The unveiling of the bust in Hiroshima is seen as a significant step towards promoting the idea of non-violence and fostering a culture of peace.
During his visit, Prime Minister Modi also took the opportunity to interact with the Indian diaspora in Hiroshima, expressing his admiration for their contributions in strengthening bilateral ties. He met with distinguished figures such as artist Hiroko Takayama, known for her work in enhancing cultural bonds between India and Japan, and Professor Tomio Mizokami, a renowned linguist who has played a vital role in popularizing Indian culture and literature in Japan.
As part of the G7 summit, Prime Minister Modi is expected to address various global challenges, including food security, energy sustainability, and fertilizer availability. The presence of the Gandhi bust in Hiroshima adds a symbolic dimension to these discussions, reminding world leaders of the significance of peace, harmony, and non-violence in overcoming these issues.
In unveiling the bust of Mahatma Gandhi in Hiroshima, Prime Minister Modi not only pays tribute to the victims of the atomic bombing but also reinforces the timeless message of peace and non-violence that Gandhi preached. It serves as a powerful reminder that in the face of adversity, embracing the principles of compassion, understanding, and sustainable living can lead us towards a more peaceful and harmonious world.