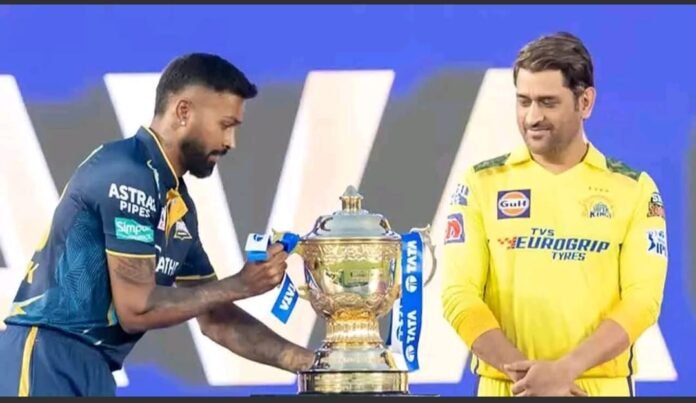 Ahmedabad witnessed an unprecedented turn of events as the highly anticipated final of the 16th edition of the Indian Premier League (IPL) between the Gujarat Titans (GT) and the Chennai Super Kings (CSK) was postponed to Monday. Mother Nature had the final say as incessant rains played spoilsport, forcing the authorities to reschedule the match for the first time in IPL history.
The buildup to the grand finale had been nothing short of electrifying, with fans eagerly awaiting the clash between two powerhouse teams. However, the weather gods had different plans as dark clouds loomed over the stadium, unleashing heavy rain showers that rendered the playing field unsuitable for any cricketing action.
With player safety and the integrity of the game being paramount, the decision to postpone the final to Monday was taken by the IPL governing council. This unforeseen circumstance added an extra layer of anticipation and anxiety for both teams and their supporters, as they now have to wait for another day to witness the ultimate showdown.
For the Gujarat Titans, who had displayed exceptional performance throughout the tournament, this delay meant an extended wait to potentially secure their first-ever IPL championship. Led by a formidable captain and backed by a talented squad, the Titans had proven their mettle in the tournament and were raring to go. The rain delay only added to the nerves and excitement within the team as they prepared for the crucial clash.
On the other hand, the Chennai Super Kings, a team known for their consistent performances and strong fan base, found themselves in a similar situation. Having made a remarkable comeback after a couple of lean seasons, the Super Kings were determined to clinch their fourth IPL title. The rain-enforced delay allowed them additional time to regroup, strategize, and ensure they were mentally and physically prepared for the final showdown.
While the postponement may have disappointed the fans who had eagerly gathered at the stadium, it also provided an opportunity for the cricketing fraternity to come together and showcase the true spirit of the game. The resilience and adaptability of both teams will be put to the test as they face the challenge of maintaining focus and momentum during this unexpected break.
As the Monday showdown looms, the excitement and anticipation are expected to reach new heights. Cricket enthusiasts, both within India and across the globe, eagerly await the resumption of the IPL 2023 Final between the Gujarat Titans and the Chennai Super Kings. With the weather expected to be more favorable, fans hope for an enthralling encounter that will ultimately determine the champions of this fiercely competitive tournament.
Until then, the players, coaching staff, and fans will hold their breath, eager to witness the final outcome and witness history being made on the hallowed grounds of the IPL.